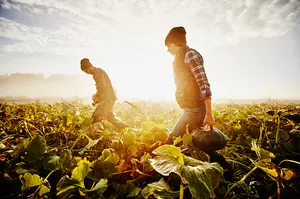 Getty Images
October 12th is National Thank a Farmer Day! So if you've eaten at all today, you should probably thank a farmer. Farmer's deserve a day too! It's a lot of hard work doing what they do, especially at this time towards the end of the harvest. National Farmer's Day was previously known as Old Farmer's Day.
Even though today is National Farmer's Day, some cities and towns across the United States celebrate throughout the year with festivals on different dates. Most being held in September and October. Dating back all the way to the 1800's, records show National Farmer's Day events.  All though the origin is not known.
According to LocalHarvest.Org, there are 24 local farms in and around Rockford. So thank one or all of them for the food you ate today. Just be sure to use #NationalFarmersDay or #ThankYouFarmers on your social media posts.