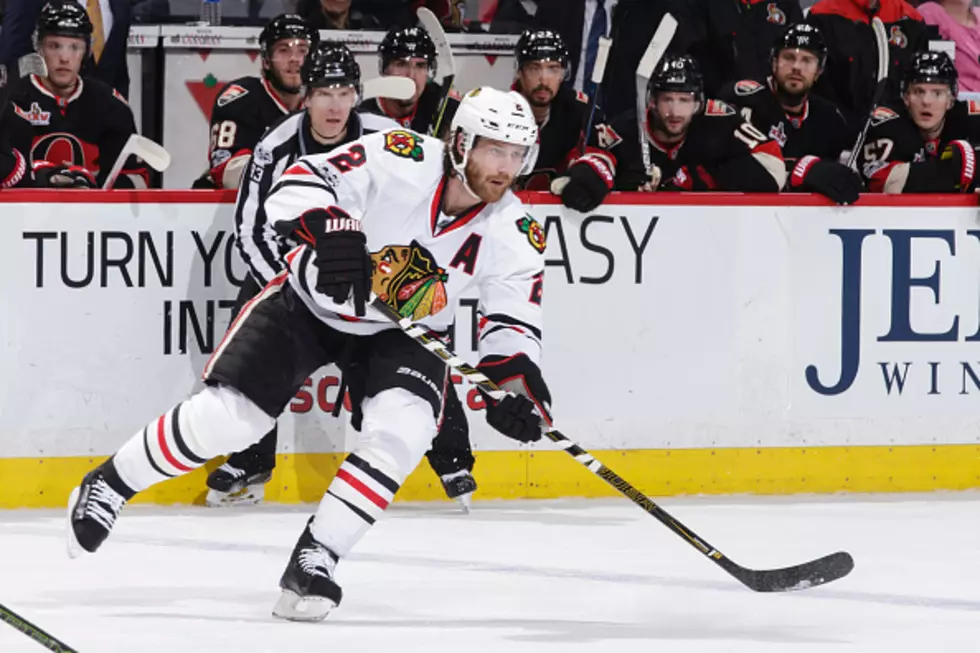 6 Things NOT In Rockford When Duncan Keith Made His Debut
Getty Images
One of the best Blackhawks of all-time was traded to Edmonton on Monday.
It wouldn't be without merit to say that he was the most important piece to the Blackhawks dynasty run. His resume with the Blackhawks is pretty impressive.
Duncan Keith has played all 16 of his NHL seasons with the Blackhawks, a feat you don't see in too many sports these days. His rookie season with the Hawks was in 2005. That was a long time ago. I have trouble myself really comprehending lengths of time without reference.
So, here are some things that weren't around Rockford when Duncan Keith played his first game with the Blackhawks.
1. Anyone under the age of 16
This one is obvious when you think about it but if you see someone without a driver's license, they probably weren't around when Duncan Keith played his first game with the Blackhawks.
2. The BMO Center
The home of the current Blackhawks minor league affiliate, the IceHogs, BMO Center was still the MetroCentre in 2005. The name change wouldn't happen for 6 more years in 2011.
3. Outdoor City Market
Rockford's outdoor city market began in 2010, 5 years after Duncan Keith made his debut with the Blackhawks.
4. Sportscore 2
Alright so I guess this isn't that old. According to this Register Star article, the complex was opened in 2017. I could have sworn the building was at least 8 years old if not double digits. I said I have problems with the concept of time.
5. Most dogs
Odds are very high that if you see a dog, that dog was not around when Duncan Keith made his debut with the Blackhawks in 2005. Same rule applies to cats but the odds are slightly less.
6. The IceHogs
Hand up. This one should be higher on the list but I thought for sure the IceHogs were around in 2005 when Duncan Keith made his debut with the Blackhawks but I was looking for more things and found out that they came to town in 2007. Again, I'm bad with dates.
LOOK: 50 images of winning moments from sports history
Sometimes images are the best way to honor the figures we've lost. When tragedy swiftly reminds us that sports are far from the most consequential thing in life, we can still look back on an athlete's winning moment that felt larger than life, remaining grateful for their sacrifice on the court and bringing joy to millions.
Read on to explore the full collection of 50 images Stacker compiled showcasing various iconic winning moments in sports history. Covering achievements from a multitude of sports, these images represent stunning personal achievements, team championships, and athletic perseverance.
Can You Identify These 20 Intersections in Rockford?
Rockford has some weird intersections as well as "worst" intersections. Test your knowledge and see if you can correctly name all 20 of these interactions in the forest city.