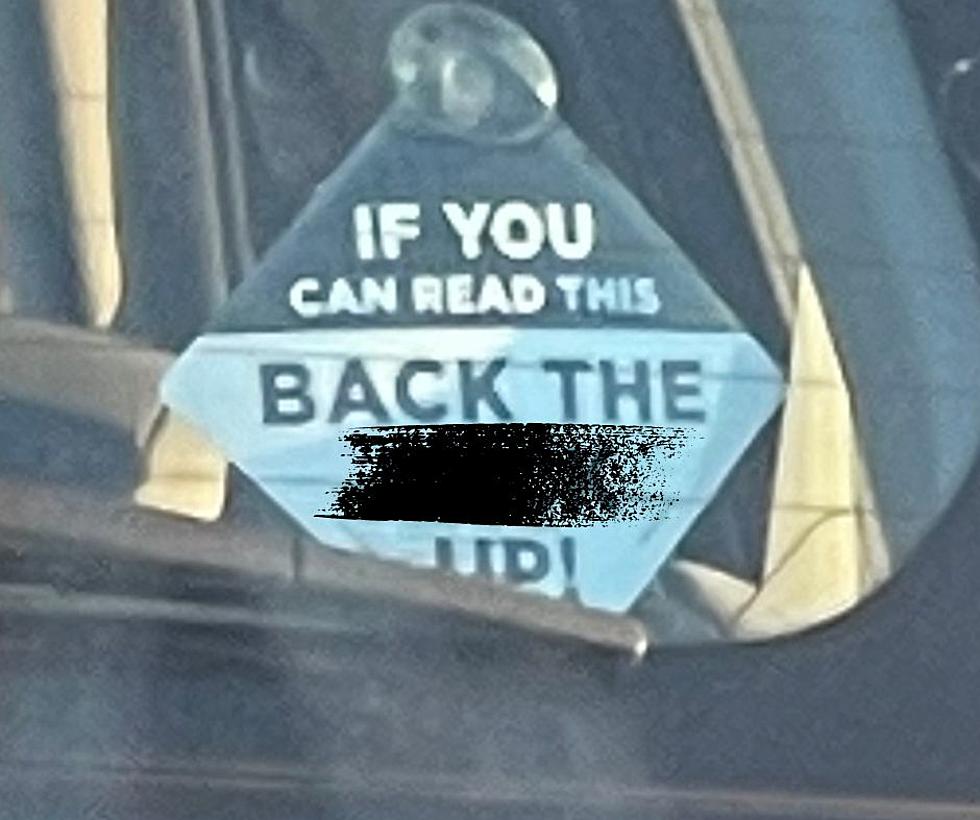 Is it Legal to Display Vulgarity on Your Car in Illinois, Like This? (NSFW)
TSM Captain Jack
I was on 251 North last night and got behind this vehicle...Apparently I was too close? I laughed and thought, ok first off I'll take a picture at the next light, and is something like this "legal" in Illinois? Could this get you a ticket, or worse?
I took to the "Google Machine" today about the whole "vulgar language on your car" thing. The language is the this is interesting. "Depends on the details." Here's what FINDLAW says:
Like most legal questions, whether your state government considers an offensive bumper sticker illegal depends on the details. Generally though, as long as the bumper sticker isn't obscene, pornographic, or blocking your view, then it's likely covered under the First Amendment's free speech protections. - Find Law
So here's the actual sign in the back of the vehicle in front of me last night:
By the way, this is totally zoomed...I wasn't really that close. I did what the sticker said, I guess...
Here's an interesting though about a profane sticker or sign on your vehicle QUORA
Because it is legal doesn't mean you won't be harassed and potentially harmed. There are just as many people who will break the law and shoot you as there are jerks to put defaming bumper stickers on their vehicles. So it really kind of boils down to how much you like to expose yourself in public. - Fred Showker
So yes, there's a "Freedom of Speech" thing here, but you are for sure bringing attention to yourself...maybe not in a way you would like.
Closed Bridge in South Beloit, IL
Here are some fantastic pictures of a bridge that closed in 1995 in S. Beloit, IL. Located on Wheeler Ave., this bridge goes over Turtle Creek yards away from the Illinois/Wisconsin border. @DecayingMidwest