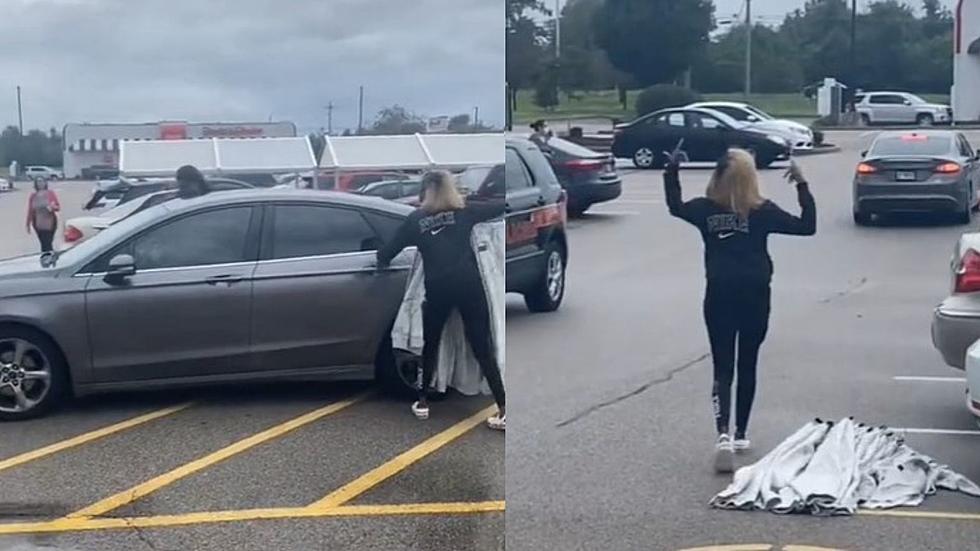 Illinois Shoplifter Locked Out of Getaway Car, Left Behind
Faxisfax via TikTok
Police in Edwardsville, Illinois are hoping a viral TikTok video will help them catch the remaining members of a botched shoplifting trip that left one arrested already.
The incident occurred on Saturday around 4:30pm in the Hibbett's Sports parking lot.
Officers say three women walked into the Hibbett's Sporting Goods, and employees recognized one of them immediately as someone who had shoplifted in the past. The employees called the police, and when the women left the store, officers had already arrived.
"These individuals exited the building with basically a handful of clothes, each of them, and ran to a vehicle parked nearby," said Edwardsville Police Chief Michael Fillback. "One of the individuals was unable to get in the vehicle. The video shows that."
The video shows one of the three women pulling on the doors, but not being able to get into the car because the driver wasn't unlocking the doors. The driver floored it out of the parking lot, leaving behind a perpetrator, narrowly missing a pedestrian and almost hitting an Edwardsville Police cruiser.
"Bottom lines is, it could have had dire consequences for somebody just out shopping with their kids or something," Fillback said.
The woman left behind dropped the stolen clothes and ran after the car, with an officer in tow. She gave up after a short distance and was arrested.
Read more at Fox 2
Midwest's Best Airbnb Is A Short Drive From The Quad Cities
If you're going on vacation and want to stay somewhere, you mine as well stay at the best. This is a look inside
Frank Lloyd Wright's Schwartz House
in Wisconsin which was named this year's
Midwest's Best Airbnb
. Get you and 5 friends together or the family, and stay at this beautiful, historic home which is only a few hours away from the Quad Cities.