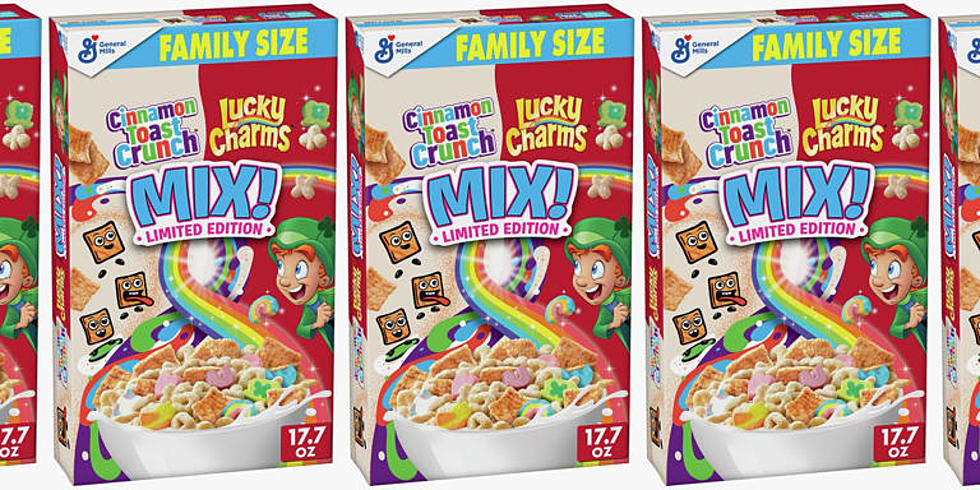 Cereal eaters Will LOVE this New Cereal Mashup: Lucky Charms Mixed With Cinnamon Toast Crunch
General Mills
Have you ever lived life on the edge and.... mixed your two favorite kinds of cereal together? Crazy right, but absolutely delicious. General Mills has been getting creative by mixing some of their favorite cereal flavors together. Ever got the craving for Cinnamon bites AND rainbow marshmallows? Tastes like cereal heaven!
General Mills is releasing a new limited-edition cereal, mixing together two of their most popular cereal flavors: Cinnamon Toast Crunch and Lucky Charms. The new cereal mix features the magical taste of Lucky's marshmallow charms and the cinnamon-covered, frosted oat squares in every spoonful.
General Mills is also bringing back Reese's Puffs Bunnies, coming out at the end of February. Just in time for Easter, which happens to land on Sunday, April 17th this year.
It is not new for General Mills to merge their popular cereals into one. The brand has a line of "Remix flavors," combining cereals like Cinnamon Toast Crunch with Vanilla Chex and Crunchy Churro Bits, or Golden Graham's with Cocoa Puffs and Marshmallows.
General Mills is focused on expanding its Cinnamon Toast Crunch Profile. They have several Cinnamon mixes such as Cinnamon Toast Crunch Churros, Cinnamon Toast Crunch Chocolate Churros, Dulce de Leche Toast Crunch, Sugar Cookie Toast Crunch, Apple Pie Toast Crunch, and CinnaGrahm Toast Crunch.
General Mills Remix cereals can be purchased at your local Target, which also carries the Golden Graham S'mores Remix and the Cinnamon Toast Crunch Vanilla mix. If you have never tried mixing your cereals, now is the time to start!
Read more at People
CHECK IT OUT: See the 100 most popular brands in America