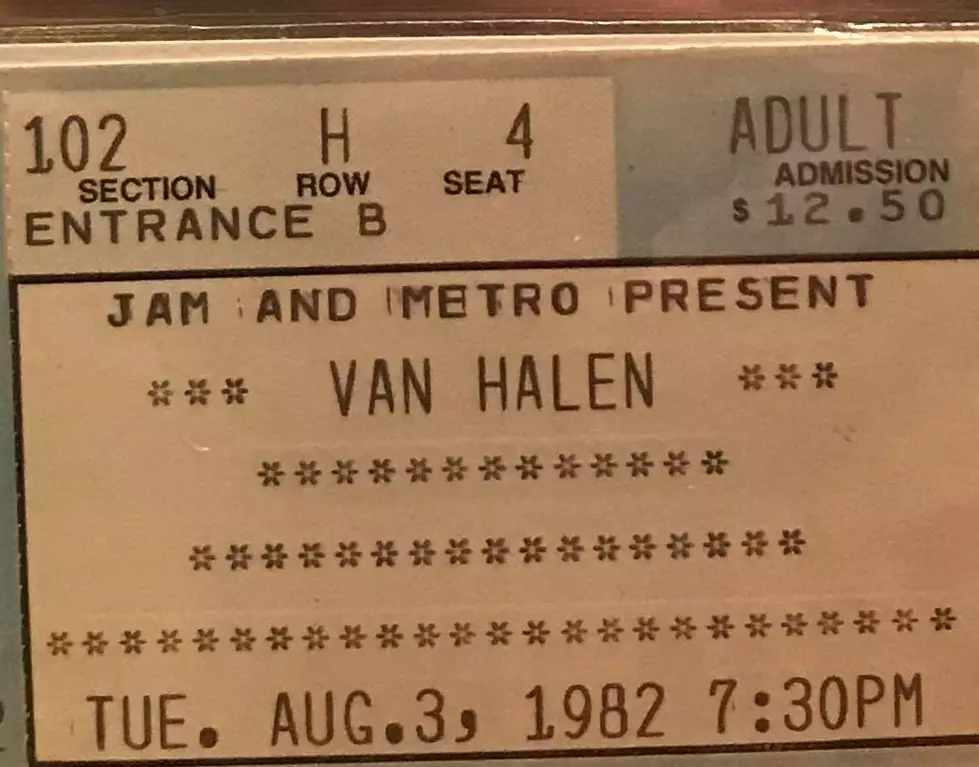 Biggest Local Van Halen Fan Reflects on EVH and VH Live (Pics)
Mike Meredith
Enter your number to get our free mobile app
Mike Meredith posted on the Eagle Facebook page after the passing of Eddie Van Halen. There was a picture of that $12.50 ticket stub, twelve freaking dollars!
I had a chance to talk with Mike (lives in Roscoe) about his passion for Van Halen and the times he saw them in concert, locally. Mike first saw VH back in 1979 and his love for the band, still continues to this day.
It's always refreshing and fun to talk to Eagle listeners about their concert experiences. We may have gone to the same shows, but what we remember and loved about the shows could be totally different. In my weird brain, I sometimes remember specific parts of a guitar solo or the goose bumps from the opening bass "thump."
Mike does a fantastic job laying his VH memories. If you have some great local classic rock concert flashbacks, hit me up and tell me all about it! Captain.Jack@townsquaremedia.com
Thank you Mike for sharing this awesome photo of ticket stubs, and for talking Van Halen! RIP EVH.
 

 My first time seeing Van Halen was August 20,1979. I believe that was the Opening Night of the Van Halen II Tour! Their first headlining tour! The very first song I seen them perform live was "Light Up the Sky". Music blaring during as the house lights go down, then Eddie hits the opening chords under the spotlights. Freaking awesome!!!The can Women and Children First tour. Then Fair Warning. Then the Metro Center show. 4 concerts with David Lee Roth. Then 2 Sammy Hagar shows up at Alpine Valley. A tour supporting the live album "Right Here, Right Now". Then the "Balance Tour". I would have to say that my favorites were the 1st time (not surprisingly!!) and the Balance show at Alpine Valley. Eddie's solos were always awesome! Alex's drum solos never disappointed you either. A couple of times he lit them up on fire! Always a great light show and then the volume!! You left with your ears ringing!! Eddie was definitely one of the best and one of a kind!! I included a picture of my ticket stubs for ya. 6 shows all together. 4 with Dave and 2 with Sammy. - Mike Meredith 
CHECK IT OUT: Top 100 '70s Rock Albums