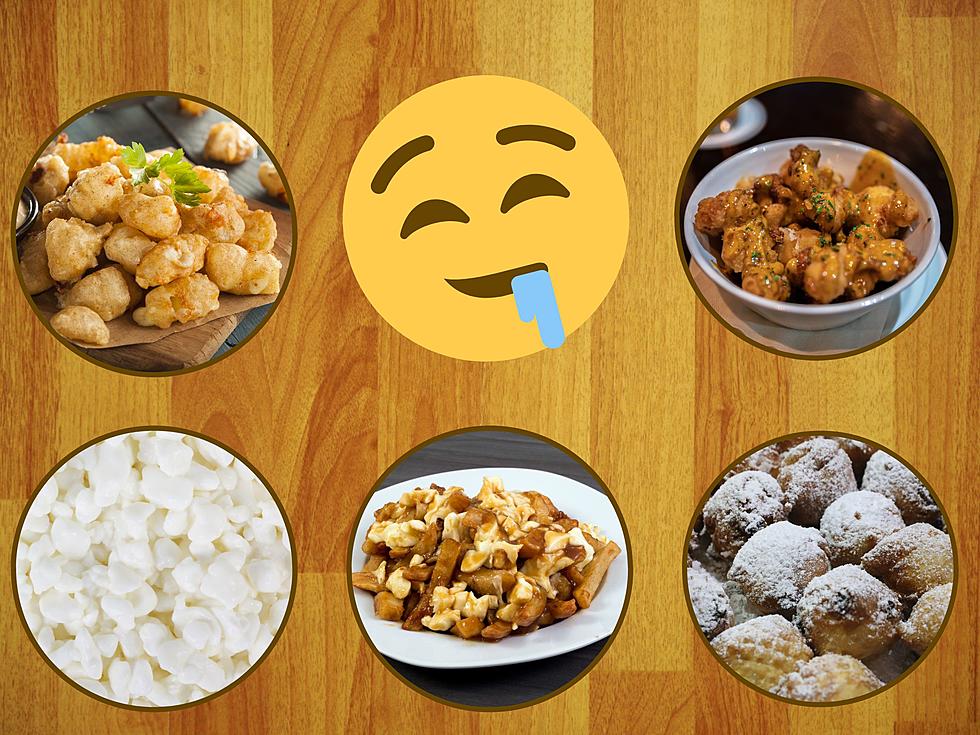 Bring Your Appetite To Wisconsin For Ultimate Cheese Curds Buffet
Cheese Curds Buffet Coming To Wisconsin
If you're a big fan of cheese curds, I highly recommend checking out the cheese curds buffet in Wisconsin.
Wisconsin Cheese Curds Are The Ultimate Appetizer
Who in their right mind doesn't love cheese curds? Honestly, I don't think I could be friends with somebody if they didn't. They are the perfect appetizer. Luckily, we live just a short drive away from our neighbors to our north. Wisconsin is the capital of cheese curds. I've recently learned that up to this point in my life, my cheese curds experience has been limited. Restaurants only serve one style in Illinois but north of the Cheddar Curtain there are many to choose from.
Wisconsin Is Home To The Cheese Curds Buffet
Sendik's Food Market is a grocery store chain in Wisconsin. They host the ultimate cheese curds event. It is a buffet. Each time, they set up long tables and spread out the different kinds of curd. Employees will serve the customers what they want flavor-wise and in the amount. Then, the people will eat with huge smiles on their faces.
Each cheese curds buffet features 20 different styles including...
White and yellow cheddar mix
Brown Sugar Bacon
Mango Habanero
Sweet Bourbon Bacon Chipotle
Garlic Dill
Bloody Mary
Buffalo Wing
Traditional Cheddar
Sour Cream and Onion
Sassy Honey BBQ
Taco
Tomato and Sweet Basil
Shallot Black Pepper
Pizza
Salsa
Horseradish Chive
Tangy Ranch
Jamaican Jerk
Hickory Hollow Smoked
Cajun
Ghost Pepper
Spicy Buffalo Wing
Bacon Ranch
Jalapeno
Gyro
RELATED: Wisconsin's Largest Cheese Stick
The next cheese curds buffet "Slam Dunk Curds" will be happening on March 18th and 19th from 10 am to 4 pm at Sendik's Food Market locations...
Brookfield (at The Corners): 20222 Lower Union Street
Elm Grove: 13425 Watertown Plank Road
Franklin: 5200 West Rawson Avenue
Germantown: N112W15800 Mequon Road
Grafton: 2195 1st Avenue
Greenfield: 7901 West Layton Avenue
Hartland: 600 Hartbrook Drive
Mequon: 10930 North Port Washington Road
New Berlin: 3600 South Moorland Road
Oconomowoc: 1450 Olympia Fields Drive
Waukesha: 701 Meadowbrook Road
Wauwatosa: 8616 West North Avenue
West Bend: 280 North 18th Avenue
Whitefish Bay: 500 East Silver Spring Drive
For more info, HERE
.
Outrageous Burgers & Bloody Marys at This Wisconsin Pub and Grill
If a tasty burger and a giant Bloody Mary sound like a perfect meal, this popular Wisconsin pub and grill is a bit of Heaven on Earth. You better bring friends!