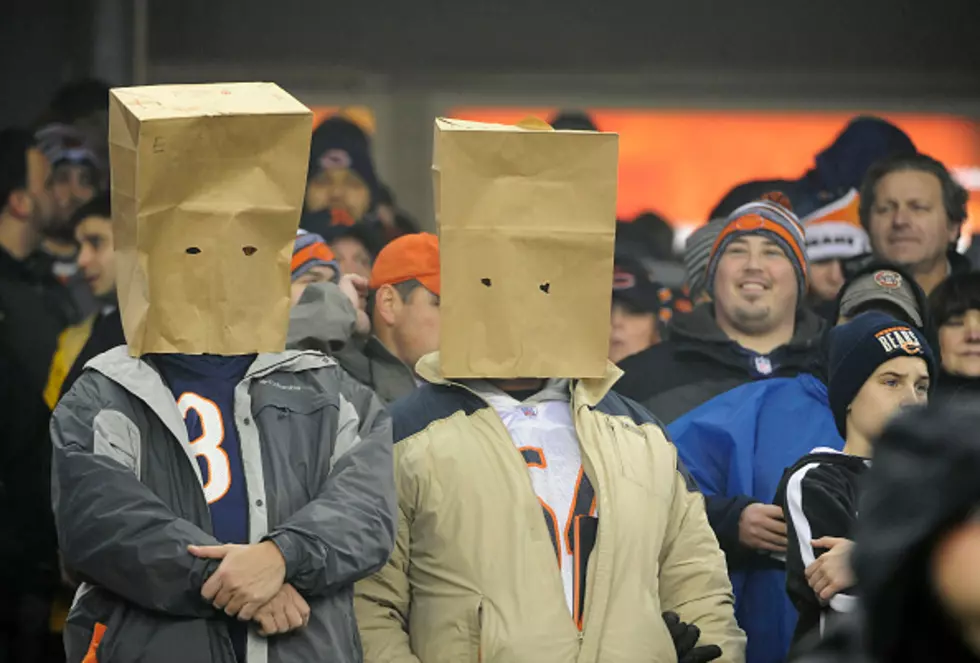 What Team Should Bear Fans Adopt For The Rest Of The Season?
Getty Images
The Bear season unofficially came to an end Monday night with a 19-13 loss to the Vikings. 
It was the fourth loss in a row and the offense looked as lost as it has in the last 30 years, not an easy task. Nick Foles doesn't appear to be the answer and even if he is, a nasty sack at the end of the game leaves his health in doubt for the rest of the season.
That means that Tyler Bray will probably be the Bears quarterback when the Bears return from their bye week to play Green Bay on Sunday night. Even if Foles is back, or Trubisky for that matter, it probably doesn't matter for the immediate future of this Bears team.
Playoffs are definitely still a possibility with a very weak schedule the rest of the season, but any Bear fan who is being honest will tell you that this season is lost and it might be time to start over.
So what is a Bear fan to do on Sundays? I like to adopt another team for the remainder of a lost season. This year I've narrowed the selection to 9 teams. I'm only selecting AFC teams, I have a lot less animosity for AFC teams compared to Bear's NFC brethren. I also eliminated any teams with a losing record, I want to actually root for a winner this year.
Here are the contenders ranked in descending order:
9. Indianapolis Colts 6-3
One word: Boring. Even when Peyton Manning was the face of the franchise, the Colts weren't very exciting. Plus I can't root for anything from the state of Indiana. It's a non-starter for me.
8. Pittsburgh Steelers 9-0
Two BIG strikes against Pittsburgh. I'm not cheering for Ben Rothlisberger and Terrible Towels. I used to work for a sports bar and EVERY Steelers game there was some Yinzee there waving this thing around and asking if we had any Yuengling. No thanks.
I'm not rooting for a team if I have to actively think where they're located geographically every time I think of them. Are they cool? You betcha. Just win baby! Even though they're a literal pirate ship, I have a hard time rooting for a team that just left a fan base.
Pros: Their QB has some excellent commercials:
Cons: Still the Browns. They, like their helmets, reek of failure.
Now we're starting to get into teams that would be fun to root for. The Ravens have an exciting QB that just won the MVP last year, they hired the sane Harbaugh brother, The Wire was in Baltimore. there's a lot to like there. The only negative in my mind is that the whole organization was named for local weirdo Edgar Allen Poe. The guy married his cousin. Oh, and they still celebrate Ray Lewis, an all-time scumbag.
Really only one reason for this being so high and that's Ron Rivera as head coach. The former Bear great is an awesome guy and is just getting over cancer. Huge negative is the fact they play in Nashville. The Blackhawks-Predators rivalry has made me aware of the city's deficiencies.
I love rookie QB Tua Tagaliova (actually spelled Tagovailoa, that was my best guess) and he's 3-0 since being named the starter. Add in some great uniforms and sunny Miami for home games and you have a recipe for enjoyable viewing.
2. Kansas City Chiefs 8-1
The defending Super Bowl Champs. Patrick Mahomes is awesome. Andy Reid is hilarious. They're one of the favorites again this year. Picking up a midseason fandom with the Chiefs is a solid investment that will pay off in a few playoff wins.
The Bills. One of the smallest markets in all of sports. They're like Green Bay but don't brag about being a small market. Just blue-collar guys playing in blizzards. I don't really know anyone that's on the team. Their quarterback is Josh Allen. He seems likable, other than him I don't know anything about the team. What I do know is that I love their fans and probably picked the Bills one just to be a temporary member of #BillsMafia. Look at these people:
This is what you have to do to entertain yourself in Buffalo. I just want these people to have a win in life.
Feel free to pick your own team. I'll be busy setting up folding tables in my backyard.
CHECK IT OUT: The Best Movie Character Names of the 1980s