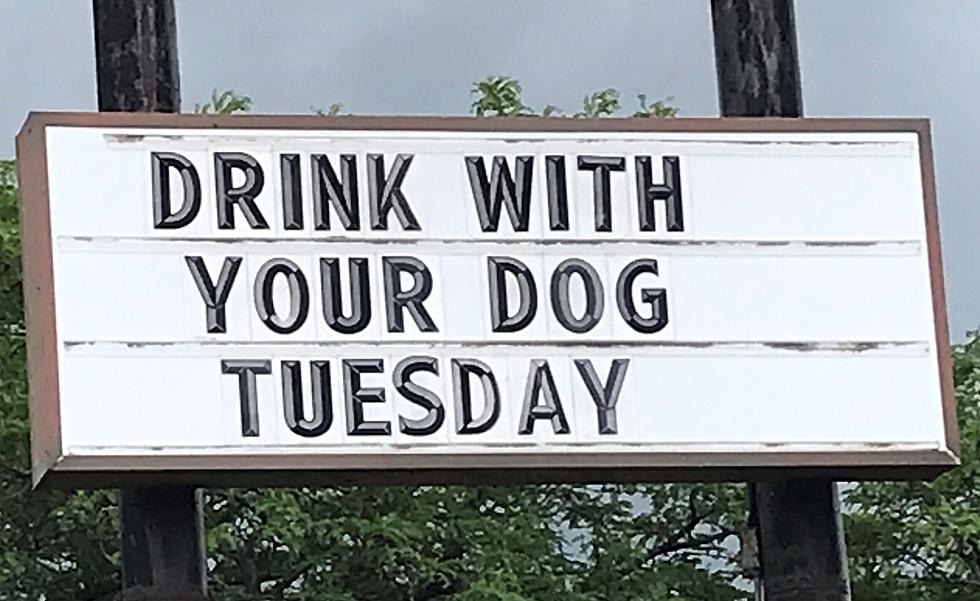 Rockford Bar To Host Drink With Your Dog Night On Tuesdays
Photo By Double T From 96.7 The Eagle
On Tuesdays, drink with your dog night at this Rockford bar.
Check Out This Sign I Saw Today
The sign is ordinary but the message was unique. Have a look for yourself.
I was at the stoplight at "Five-Points" in Rockford. That's the corner of South Alpine Road, Broadway Street, and Newburg Road.
There are a lot of businesses, billboards, and signs at that intersection, so when I am sitting at the light, I make it a point to look around to see if I notice anything new.
It is not a normal occurrence, but some days I get lucky. Today, was one of those rare chances. I glanced over at the Brewsky's sign and there it was in big bold letters.
"Drink With Your Dog Tuesday"
It took me by surprise, so I drove around the block to get a closer look. I double-checked and that is what it said. I was not seeing things.
Fun Night Out With You And Your Bestfriend
One of my friends has a dog and he likes to bring him to restaurants and bars that allow pets on their patios.
A couple of weeks ago, I did some research and found a few places in Rockford.
What Does The Sign Mean
Well, it is kind of like any other special bar night theme. For example, bike night. When a place hosts that event, they encourage customers that own motorcycles to bring them out.
On Tuesdays, you are allowed to bring your dog to hang out while you have a few adult beverages at Brewsky's. Maybe, if nobody else will go out n Tuesday, at least your dog will.
Check out their deck, it is pretty cool.
If you do show up with your four-legged friend, please do not give them any alcohol.
For more info about Brewsky's, HERE.
KEEP READING: Here are 6 foods from your cookout that could harm your dog
20 Outdoor Dining Options in Northern Illinois
20 great patios to enjoy lunch, dinner, and a cocktail.