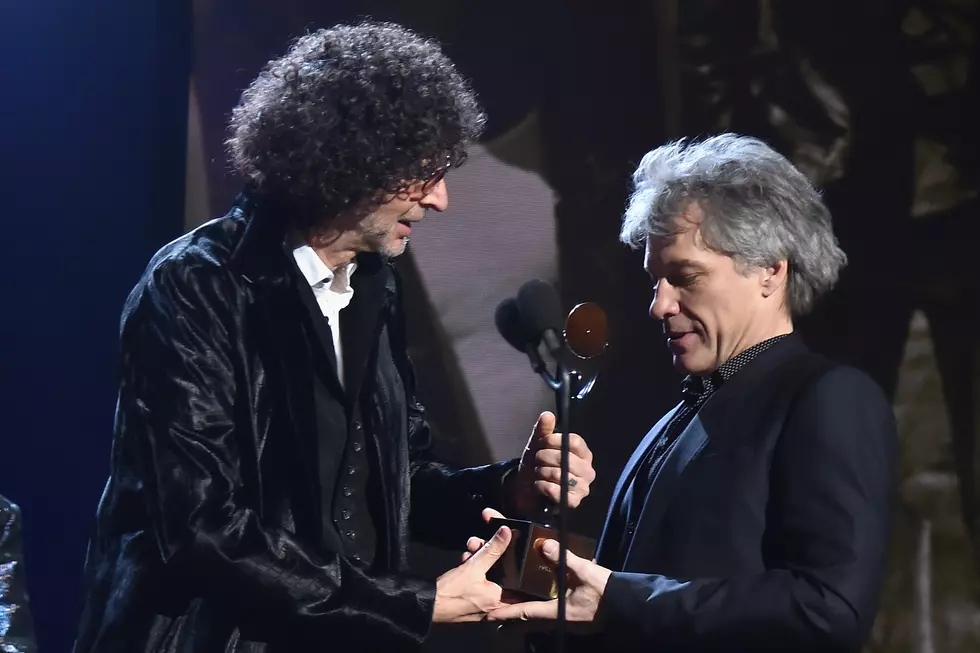 Howard Stern Inducts Bon Jovi Into the Rock and Roll Hall of Fame
Theo Wargo, Getty Images
While inducting his old friends Bon Jovi into the Rock and Roll Hall of Fame, Howard Stern quipped that "Jann Wenner finally let Bon Jovi in." It was part of a lengthy, and profanity-filled, speech in which Stern, true to form, simultaneously praised and mocked the group, the first of this year's class to be inducted tonight.
Stern noted that "it's an honor to be here tonight for these guys. I've known them since they started," joking that in 1987 he "was on a date with Richie Sambora. We met the hottest chick and had a threesome." He then ran down each band member ... and poked fun at them along the way, including an extended joke about which Bon Jovi member has the biggest penis.
As part of his sustained riffing on Wenner's alleged refusal to allow Bon Jovi into the Hall for so many years, Stern compared the group's career record sales numbers to the human cost of various historical tragedies. "Let me give you an idea of what the number 130 million means, and it means a lot. Now, the bubonic plague only killed 50 million people. The atom bomb only killed 225,000 people. Six-hundred-and-twenty-five–thousand people died in the Civil War. Peanuts compared to 130 million."
He then led the audience in a singalong of "Wanted Dead or Alive," and ended his lengthy and out-of-tune a cappella take by saying, "Eat shit, Bob Dylan." The radio host ran down the band's achievements over the years -- including musing on the early years ("They only had Jon's hair and Tico's farts to keep them warm") -- before wrapping up with kind words about all of this year's inductees. He said it was his "privilege" to play all of the artists' records on the radio over the years.
When Stern's involvement was announced, he said on his show that he was "honored" to have been asked, but the native New Yorker was less-than thrilled with the location of this year's ceremony. "I gotta go to fucking Cleveland," he said. "I'm calling Jon and getting out of this. [My wife] said, 'No, you're going to go Cleveland and we're going to have fun.' ... I said, 'I'm gonna go, but I have to go to bed early.'"
There may be something to that, since Bon Jovi -- whose fans came out in thousands to see the band inducted -- were the first band to be inducted at the ceremony. Stern even made a quick joke about leaving the house and showing up in Cleveland.
Stern had been one of the band's biggest supporters in their early days, when he was on New York's WXRK-FM, but their friendship hit a snag when it came time to promote Bon Jovi's 1988 LP New Jersey. He was hurt that the band didn't come on his show, saying that his competitors had threatened to not play their songs if they did.
It all came to a head the next summer when comedian Sam Kinison, a friend of both Stern and Bon Jovi, offered to bring them into the studio to bring peace to the sides. But neither the comedian nor the band showed up that day, and while Stern quickly made up with Kinison, he wouldn't reconcile with Bon Jovi for a few more years.
"Other bands from their era have disappeared, yet Bon Jovi continues to grow stronger and stronger," Stern said. "I really feel blessed to know you and to have been given this honor of inducting you."
The 2018 induction ceremony will be broadcast on May 5 at 8PM ET on HBO.
The Best Photos From the 2018 Rock and Roll Hall of Fame Induction Ceremony