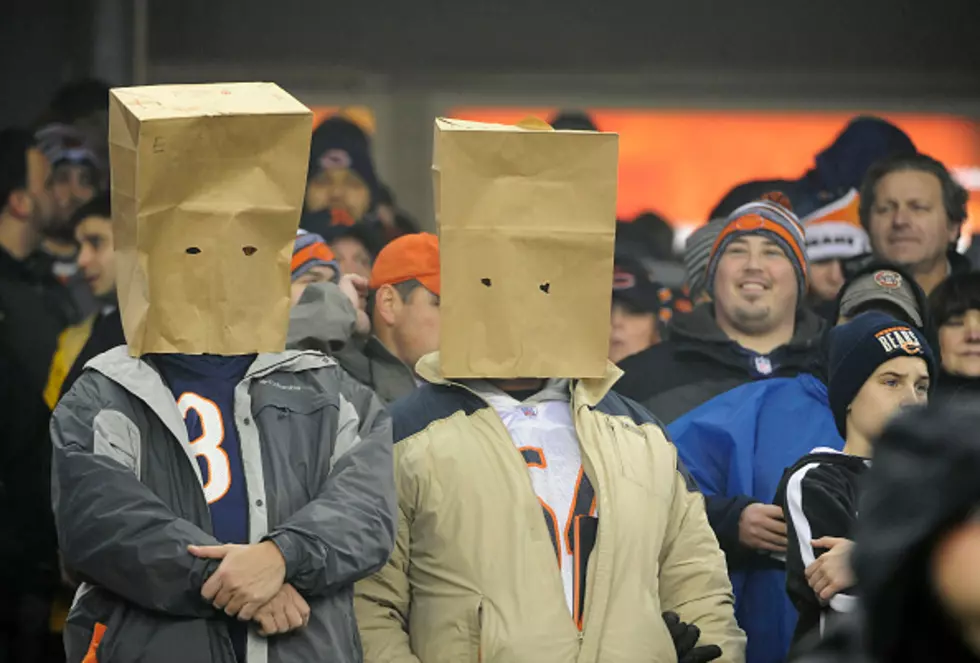 Here Are 3 Embarrassing Stats About The Chicago Bears
Getty Images
The Bears season has not gone as planned.
It doesn't seem that long ago that the biggest concern for a Bears fan was who was going to be the placekicker. That was such a simpler time.
Now, the quarterback seems totally lost. The defense is worn out from constantly being on the field. The coach is starting to argue with the media. It's getting ugly.
Cinderella's stagecoach has RAPIDLY turned back into a pumpkin and there is no Prince Charming in sight.
(NOTE: I've never seen Cinderella but I think those are plot points. If not, I offer a moneyback guarantee on this blog.)
(Now that I've thought about it, I'm pretty sure Prince Charming is from Sleeping Beauty but you get the point)
I heard 3 stats since the Bears loss to the Saints that I was truly shocked by. Here they are in no particular order.
1. The Bears have lost 6 straight games after their bye week. The longest such streak in football. 
This obviously doesn't fall squarely on this administration's shoulders but that stat is brutal. The last Bears coach to record a win after the bye? Mark freaking Trestman. His 2013 win over the Packers in week 9 was the last time a Bears team was prepared with the extra week off. Not good.
2. The Bears have not gained 300 yards on offense this year.
That is shameful. Look at some of the garbage offenses around the league. There are some teams *cough cough the dolphins* with absolutely no talent on offense that have eclipsed the 300-yard mark. It's almost like the people running the show don't really know what they're doing, which brings us to....
3. The Bears ran the ball 7 times against the Saints on Sunday. 
7 times. I'm not a 3 yards and a cloud of dust meatball but you have to try to do something. Nagy knows.
The Bears are in a tough position. They know they have to run the ball because the passing game (AKA Mitchy) isn't very good. Unfortunately, the other team knows that too so they just focus on the run and the offense (Mitchy) can't punish them for selling out on the run. It's a vicious cycle that is making everyone crazy.
They always say that it's darkest before the dawn.