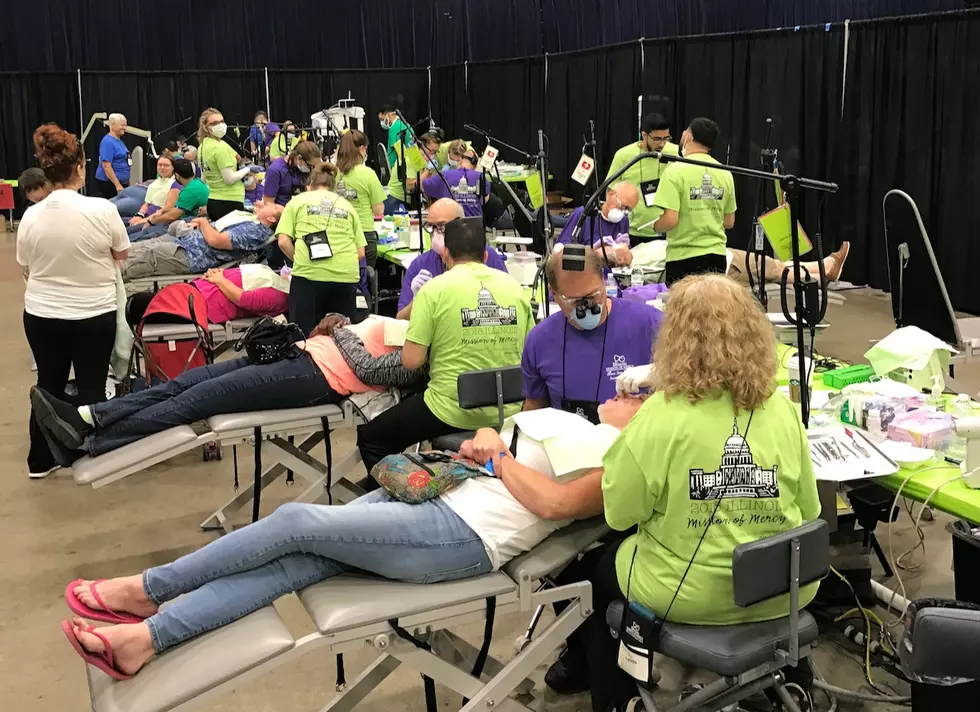 Two Thousand Illinois Residents Can Get Free Dental Services This Weekend
Illinois State Dental Society
Did you know oral care is the number one most neglected health necessity? Ask any dentist and they will tell you. Dental health goes far beyond your teeth. Inadequate oral care can affect your health in multiple ways. Mayo Clinic lists other problems that bad oral health can cause and it's shocking.
Cardiovascular Disease: Some researchers believe that heart disease, clogged arteries, and strokes may have a connection to oral bacteria.
Periodontitis: This has been linked to premature birth and low birth weight.
Pneumonia: Bacteria from your mouth can be inhaled and enter your lungs. This can cause respiratory diseases like pneumonia.
Endocarditis: This can affect your heart through bacteria entering your bloodstream.
It's no secret not everyone can afford adequate dental care. There are government-provided services for individuals and families who qualify but there may be a grey area. There are some folks who exceed the requirements for assistance yet might have little to no dental insurance through their employer.
Luckily, for residents in the Land of Lincoln, members of the Illinois State Dental Society (ISDS) are collaborating to provide over $1 million in dental services for free for Illinois residents.
ISDS members collaborated to form Mission of Mercy in 2000.
The Illinois Mission of Mercy (IL MOM) is a large-scale dental clinic that provides free oral health care to patients of all ages who cannot otherwise afford or access care.
This first come-first serve event will provide services like cleanings, fillings, and extractions, all at no cost. There will not be crowns, bridges, or full dentures, but partial dentures in some cases. This is only available to the first 1,000 people to show up to the event, each day.
No services are guaranteed until you've been examined by a dentist at the clinic.
Where will the clinic be hosted in Northern Illinois?
The clinic will take place July 22-23, 2022 at the UW Health Sports Factory in downtown Rockford, Illinois.
Information like when to arrive, how long you should expect to be at the facility, what to bring, how to prepare, volunteer opportunities and more can be found here.
KEEP READING: See 25 natural ways to boost your immune system
KEEP READING: 15 Natural Ways to Improve Your Sleep