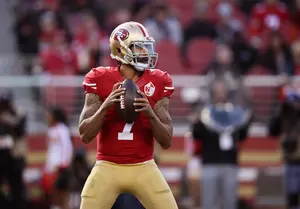 Packers Fans Start a Petition to Bring Kaepernick in as Quarterback
Getty Images
As a Packer fan, this almost hurts me a little to type this and it hurts for several reasons. The first being that Aaron Rodgers is possibly out for the remainder of the season. Rodgers broke his collarbone Sunday after taking a hit from Vikings linebacker Anthony Barr in the first quarter of the game. Ouch!
Now according to Fox9.com, a fan from Oakland, CA has brought up the idea of the Packers signing free agent Colin Kaepernick in to replace Rodgers.  He's gone as far as to start a petition with change.org. A petition that at this time has 14,380 signatures.
Now, this hurts me, but maybe not for the reasons you think. I'm not going to beat the dead horse of the Anthem debate. It's been done countless times before and that's not the issue I have with him hypothetically going to Green Bay. It hurts because I feel that he brings a lot of drama with him, and yes that will happen wherever he may go. But the Packers have just lost the leader of their team out on the field, so any extra drama in the locker room in unnecessary.
Plus I feel he's not that good of a quarterback, never have. In the past, he had lost his starting job more than once. It seems like he only has his best games against the Packers. Again I'm a Packer fan, so yeah that stings a little. But I don't feel he should be a quarterback, to begin with. He seems to the best when he's running the football himself, so maybe he should try to play running back. Just a thought...