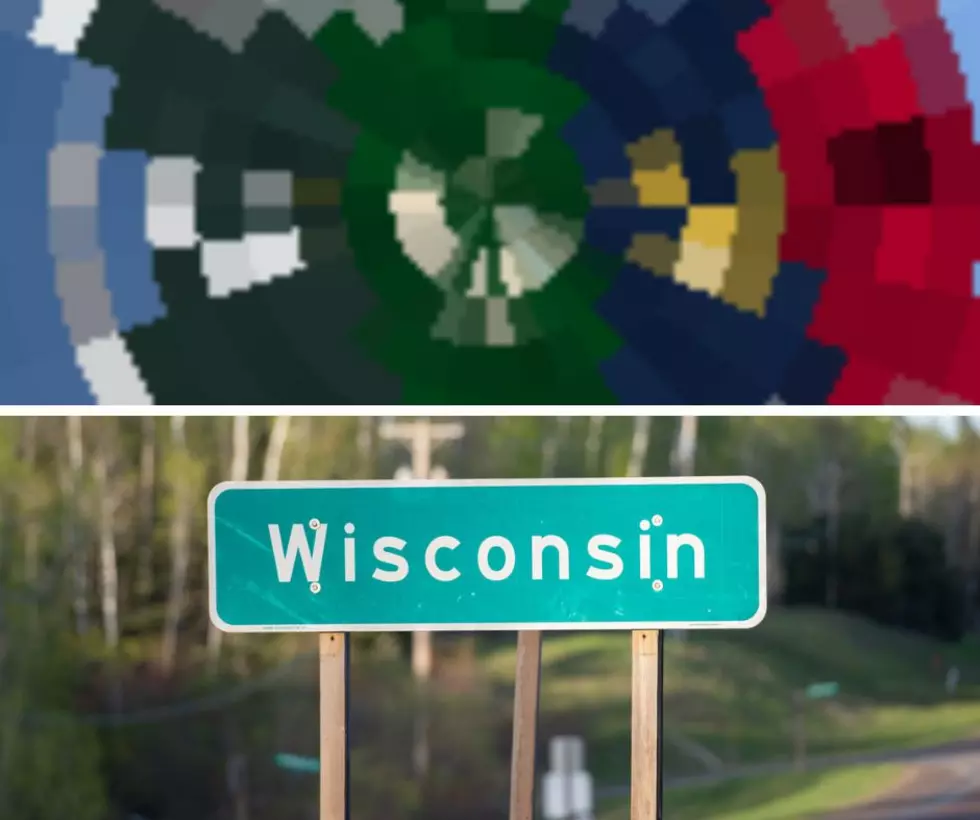 This Could Be A Perfect New Flag For The State Of Wisconsin
Canva (New Possible State Flag For Wisconsin)
If Wisconsin was ever looking for a new state flag, this could be the perfect replacement.
Does Wisconsin Need A New State Flag?
I was doing a little internet surfing when I came across a picture of the Wisconsin state flag. In my opinion, it could definitely use a makeover. Check it out.
Possible Idea For A New Wisconsin State Flag
What's pretty funny is later that same day, a friend of mine sent me a picture of a Wisconsin-themed sports banner. He added, wouldn't this make a perfect new state flag for the land beyond the Cheddar Curtain? Have a look for yourself. If you like it, you could order one for yourself or even other merchandise with that logo, HERE.
Problem With This Idea For A New Wisconsin State Flag Design
After thinking about this new Wisconsin state flag idea for a while, I decided that it may need some adjustments. Most of the people I've met over the years from north of the border aren't all in when it comes to their local and regional teams.
The Teams People From Wisconsin Really Cheer For
Unfortunately, not many residents of Wisconsin follow all four of those teams. In fact, I believe they break the rules of being good sports fans. They don't always support the local teams. You might consider them bandwagon jumpers in some cases.
Green Bay Packers - The state's number one team. No problem with support there.
Wisconsin Badgers - Runner-up in the state's sports teams popularity contest. The residents are in for them too.
Milwaukee Brewers - Here's where the fans drop off. Honestly, I haven't met many people from Wisconsin that are fans. Unless they are winning.
Milwaukee Bucks - Same as the Brewers. Until they recently won the NBA Championship I don't think I ever met anyone that claimed to be a fan.
Chicago Cubs - Through the years, I have met many people from Wisconsin who are die-hard Cubbies fans. I would dare say they are the number three favorite team in Wisconsin. I won't accept that. You have the Brewers.
St. Louis Cardinals - I have run into a lot of people who are the interesting combo of Packers and Cardinals fans. How does that even happen?
Chicago Blackhawks - When the Hawks were winning Stanley Cups, lots of Wisconsin sports fans jumped on their bandwagon. I understand they don't have an NHL team but it still doesn't seem right. They hate the other Chicago sports teams (well, besides the Cheeseheads who love the Cubs). I don't think it's okay for them to be Blackhawk fans. Sorry, you have the Milwaukee Admirals.
Different Design For New Wisconsin State Flag
I came up with my own concept for a new Wisconsin state flag. It includes Lambeau Field (home of the Packers), beer (the favorite drink of the residents), brats (favorite food), and camouflage (which represents all the outdoor activities the state offers). What do you think?
You Can't Visit Wisconsin Without Trying These 5 Very Iconic Foods
These aren't just delicious foods, these are the foods that scream the great state of Wisconsin. Bring your appetite.
25 Places You Need to See Next Time You're In Wisconsin