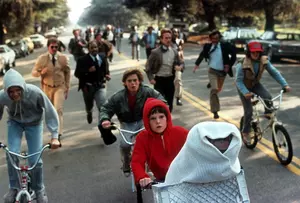 Kid Friendly Halloween Movies
Getty Images
Halloween is the time of year where you want to be scared. Horror movies are a must, but what if you have little ones. Or better yet, little ones who don't share your same love of horror. No worries, you do have options!
There are quite a few movies out that are kid friendly, yet still keep with the spirit of All Hallows Eve! As a mother of two girls who don't share the same love of horror films that I do, I've had to edit my Halloween movie viewing list. So I've done the leg work for you and found some Halloween movies that won't completely scare the hell out of your kids!
From redbookmag.com: "34 of the All-Time Best Halloween Movies for Kids"
It's the Great Pumpkin, Charlie Brown
Halloween is Grinch Night
E.T. The Extra-Terrestrail
Ghostbusters
Scooby-Doo: Halloween Hassles at Dracula's Castle
Casper Meets Wedny
Monster Squad
Beetlejuice
The Witches
The Addams Family
Hocus Pocus
The Nightmare Before Christmas
Casper
James and the Giant Peach
The Little Ghost
Halloweentown
Phantom of the Megaplex
The Little Vampire
Monsters, Inc.
Harry Potter and the Sorcerer's Stone
The Haunted Mansion
Corpse Bride
Pooh's Heffalump Halloween Movie
Paranorman
Spookley: The Square Pumpkin
Wallace and Gromit: The Cures of the Were-Rabbit
Monster House
Mom's Date with a Vampire
Coraline
Frankenweenie
Hotel Transylvania
Goosebumps
Spooky Buddies
Curious George: A Halloween Boo Fest
I also like these that weren't included in their list:
Scared Shrekless
Ernst Scared Stupid
Toy Story of Terror
Hope this helps with your Halloween movie options with the family!