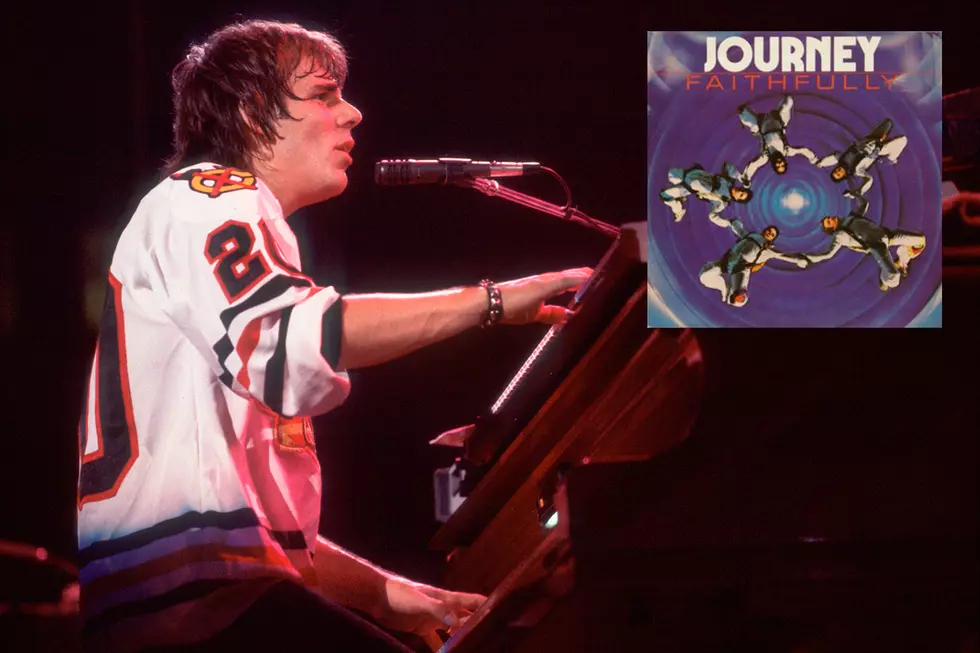 35 Years Ago: Journey's 'Faithfully' Arrives in a Dream
Paul Natkin, Getty Images / Columbia
With their eighth studio album, 1983's Frontiers, Journey's transition from prog-influenced rock to radio-friendly, arena-ready fare was all but complete — an evolution that included one of the decade's quintessential ballads in the Top 20 hit "Faithfully."
Written by keyboardist Jonathan Cain, "Faithfully" followed lead-off Frontiers single "Separate Ways (Worlds Apart)," which had scored Journey a Top 10 pop hit while topping the rock charts — extending an impressive streak of crossover singles that stretched back to 1979's "Lovin', Touchin', Squeezin'." Although Journey's brand of polished bombast would eventually be seen as just another ingredient in the power ballad formula that took over the Top 40 later in the decade, it was still powerfully effective; at this point, the band had already graced the upper reaches of the pop charts with "Who's Crying Now" and "Open Arms."
Still, even in the context of a catalog not without its share of softer songs, "Faithfully" stood out — particularly for Cain, who dashed it off in a burst of creativity while the band was on the road. "He told me he got the melody out of a dream," Neal Schon said in the liner notes to their 1992 box set, Time Cubed.  "I wish something like that would happen to me."
"I don't think I've written a song so quickly. I mean, it was probably a half an hour," he told Songfacts. After scribbling out some lines on a napkin, he recalled feeling the rest of the composition come to him in a flood. "I'd never had a song come to me so quickly that it was anointed, supernatural. Literally, in 30 minutes I had written that song. I had the napkin in my pocket and I put it on the piano. I had a big grand piano there by the orchestra. I played through it and I thought, 'Man, this is good.'"
Clearly, Cain's bandmates agreed — and so did a number of Journey's musical peers. Not long after "Faithfully" hit the airwaves, Cain got a call from Prince, who, he recalled, played him "Purple Rain" and said, "The chord changes are close to 'Faithfully,' and I don't want you to sue me." To his credit, Cain came away from the conversation with anything but a lawsuit on his mind.
"I thought it was an amazing tune," Cain later said. "I told him, 'Man, I'm just super-flattered that you even called. It shows you're that classy of a guy. Good luck with the song. I know it's gonna be a hit.'"
As it turned out, it wasn't the only extra hit to grace the airwaves with a little bit of "Faithfully" DNA. Bryan Adams' longtime songwriting partner Jim Vallance attributed road-induced musical osmosis to their own 1984 hit "Heaven," admitting they were influenced by that song in particular after Adams toured with Journey as their opening act.
But ultimately, it was still a personal statement from Cain — and one that, in the moment, had exactly the impact he intended. "I knew it had something," he told the Tennessean. "I knew anytime you have that innocence and that transparency and you're able to let your guard down as a man, and tell a woman that you're forever hers. I was having trouble with my marriage at the time, and so my wife came on the road and I played it for her. And she just gave me a big old hug. It meant a lot to her that I had written it."
See Neal Schon Among Rock's Forgotten Supergroups
Journey Albums Ranked