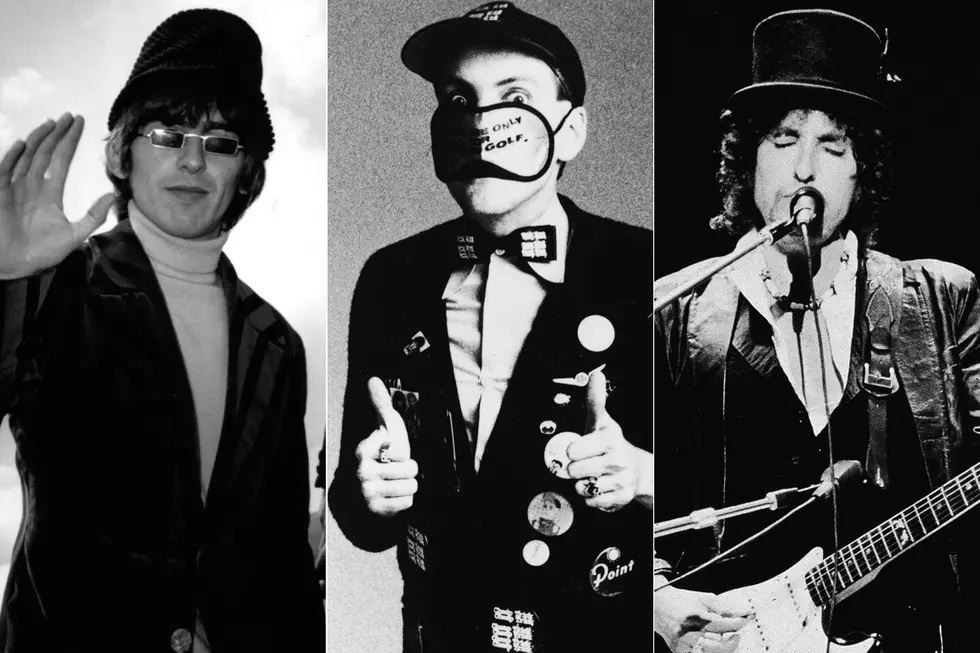 The History of the Nippon Budokan: Rock 'n' Roll's Eastern Palace
Hulton Archive, Getty Images
There exists a select few venues that always seem to bring out the best in musicians -- none perhaps more distant and mysterious than the Nippon Budokan in Tokyo, Japan.
Erected ahead of the 1964 Summer Olympics, the original purpose of the building was to house martial arts events -- primarily judo, akido and karate. Thus, it shouldn't surprise anyone to learn that name of the venerated concert space literally translates into Japan Martial Arts Hall.
It's perhaps also of no surprise that it gained its initial reputation, instead, as a palace for rock acts with an early appearance by the Beatles. They were, in fact, the first rock act to play at the Budokan on July 2, 1966, with a follow-up show that took place the next day. Many in Japan were up in arms about the Fab Four staging a rock concert inside the venue, with opponents calling for the band to play instead -- no kidding -- a nearby garbage dump. The show went off without a hitch, though alongside a massive security presence, and ultimately set the stage for a slew of rock acts to follow.
By the '70s, the Budokan had became a must-visit tour destination for the biggest bands in the world -- though no one had thought to leverage the setting for album sales just yet. Led Zeppelin played there four times, twice in 1971 and another two times the next year. Those shows, which have been widely bootlegged, are considered among the best of the band's extensive live career. Another well-regarded underground recording was made at the venue when Santana played there on July 6, 1973.
Listen to the Beatles Perform at Budokan
The first official release to be recorded inside the Budokan came in 1972 with Deep Purple's double-live album Made in Japan. Combined with another show recorded at the Festival Hall in Osaka, the set went on to become one of the band's most critically acclaimed releases as well as one of its best selling. A sequel arrived five years later in the form of Last Concert in Japan, which captured Deep Purple's Mk IV lineup in December 1975.
In 1977, Kiss would make their first appearance on the Budokan stage as part of their Rock & Roll Over tour. This appearance was filmed and was later released on the first volume of the band's Kissology DVD collection. In 2012, Gibson Guitar would reproduce to exact specifications the Les Paul that Ace Frehley used at this show for a special, limited run of instruments.
Then a modestly successful rock outfit from Rockford, Ill. decided to make their first trip over to Japan. Cheap Trick's resulting At Budokan album remains far and away the band's most instantly recognized. While still largely unknown in America around 1978, Cheap Trick had found a great deal of success in Japan. The band set up the recording equipment in the large hall with the intention of making a Japan-only live recording, as guitarist Rick Nielsen explained to Vintage Rock. "We had three No. 1 songs from our first and second records in Japan -- so that surely added to it," Nielsen said. "We went there in '78 and the record company said we're gonna put a record out for these fans because they're crazy fanatics about Cheap Trick. So we recorded about three or four different shows." Once the live set saw wider release, the act and the venue were linked together forever. "The Budokan made us famous," Nielsen told the Tokyo Journal, "and we made the Budokan famous."
Watch Cheap Trick Perform 'Surrender' at Budokan
It's hard to say what makes a particular venue special, both to concert goers and to record buyers. For some concert spaces, it's the promoter. (Think Bill Graham, with the Fillmores and the Winterland.) For others, it might be a unique setting. (Consider Greenwich Village, the Sunset Strip on the Reeperbahn in Hamburg.) And then there are places like the Budokan, venues that simply build up a reputation for magic moments -- whatever their actual limitations. (This building, after all, still has both the look and feel of an athletic arena.)
Over time, anyone who enters its halls is just expected to kick it up a notch. Much like a favorite song, or a preferred album, there is just something about the Budokan that works. We can't quite put our fingers on it, but when we see that unusual-looking word on an album sleeve, we know something special will be inside.
The Most Awesome Live Album From Every Rock Legend