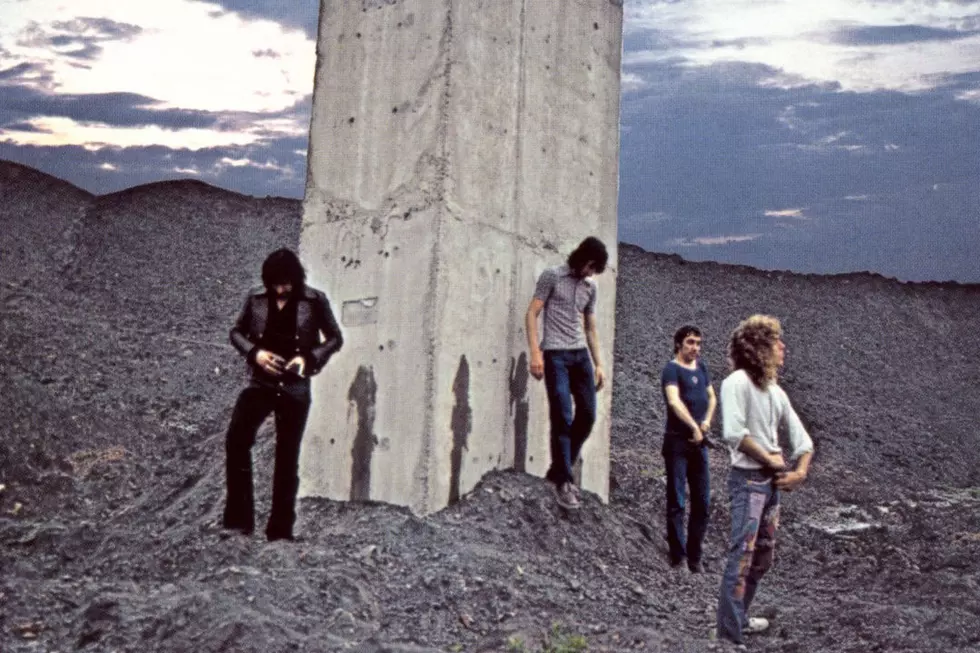 How a Urine Shortage Almost Ruined the 'Who's Next' Cover Shoot
Decca
Who's Next arrived on Aug. 14, 1971, with a group of songs that would become among the Who's best-loved and a cover image once lovingly described by Pete Townshend as "pissing on the obelisk." How they got there is almost as interesting the music's long journey from Townshend's discarded epic Lifehouse into a single-disc rock classic.
The Who were traveling back to London, after a show in Sunderland, when they happened upon a huge slab of concrete towering over a mining site just outside Sheffield. So why not pee on it, right?
Only it didn't unfold quite that smoothly.
Ethan Russell, having gained no small measure of fame for photographing the Beatles' last shoot as a foursome, had taken to riding along with the Who in search of a suitable cover image. Nothing had stuck.
In fact, they'd ultimately discard a photo featuring buxom nude women, and another of Keith Moon dressed in lingerie and a wig, holding a whip – though these images later appeared in advertisements before finding a home in latter-day reissues of Who's Next.
Earlier, someone had suggested urinating on a Marshall stack, and suddenly – as they roared past a slag-heap at the Easington Colliery – Russell hit upon something with a much grander scale.
"The Who had already rejected several covers for this album," Russell told Carmel Magazine in 2013. "To get ideas, I accompanied them to a gig in Central England. Pete Townshend's driving scared me so much, I laid down in the back seat. I was freaked out. On the way home, Pete was driving fast again. I saw those concrete things and didn't know what they were. He slowed down at a roundabout and asked if I had any ideas; I told him about those shapes. Pete turned around and we stepped out into this moonscape."
Maybe, as it's been suggested, the massive edifice reminded the Who of the monolith from Stanley Kubrick's 2001: A Space Odyssey. Or perhaps they thought the album cover would work as a gritty commentary on modern life. Or maybe Townshend just needed to relieve himself. "I was taking test Polaroids and [when I] looked up," Russell said, "Pete had peed on it. I thought 'Okay!' [and] took about eight shots."
The only problem was, Townshend's bandmates didn't have to go. Another moment of inspiration from Russell saved the shoot. He ended up trickling rainwater from an empty film canister to achieve the desired effect for the others. "Except for Pete's, the 'urine' was water we poured on the concrete. They couldn't perform!" Russell said, still marveling over this "totally spontaneous" moment. "We tried," he added, "but you can't brainstorm that kind of thing."
After that, Russell placed a dramatic photo of the sky behind the Who, one he found from a previous session, and the now-familiar image was complete.
The Who Albums Ranked 
You Think You Know the Who?