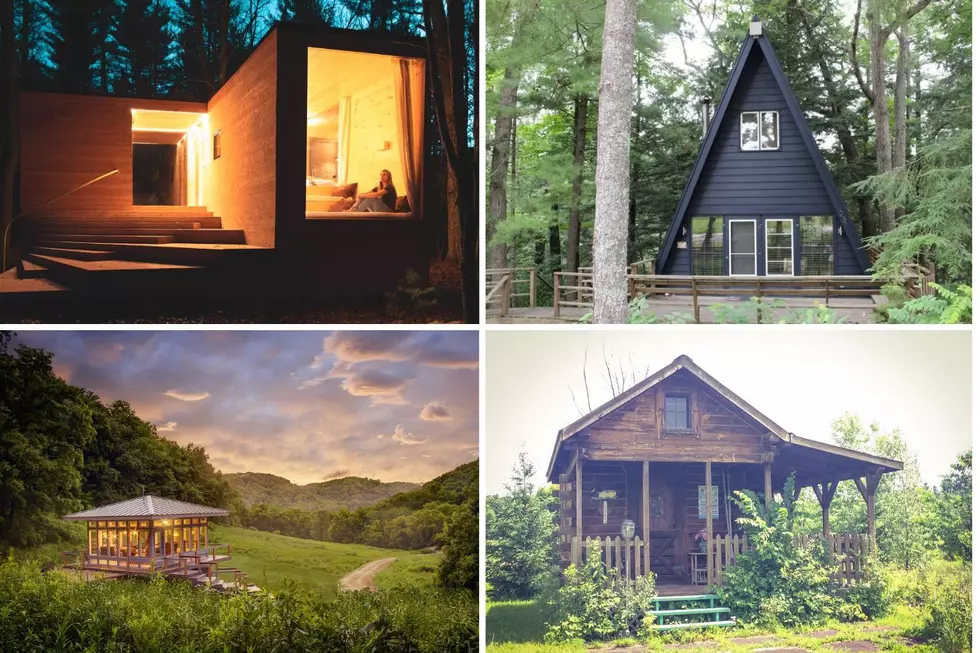 4 Tiny Cabins That Will Fulfill All Your Big Wisconsin Vacation Dreams
Airbnb, Sandy County Vacation Rentals and Anaway Place via Facebook, Canva
Tiny homes are becoming all the rage these days, but could you ever live in one?
The answer for me is no. I have WAY too much stuff I am unwilling to part with. (It's a problem, I know).
Permanent tiny home living might not be for me, but vacationing in a tiny home is an entirely different story.
What Are Your Vacation Must-Haves?
When I start planning a family vacation there are three qualifications that must be met:
Affordability
Lots of family-friendly things to do
Pretty views with a relaxing atmosphere
If I've learned anything so far in my 42 years on this planet, it's that you don't have to spend a lot of money to have a lot of fun on vacation! You don't even need to travel far or book a super expensive hotel to enjoy an amazing getaway. In fact, your next great vacation could be at one of these unique tiny home vacation rentals that I found on travelwisconsin.com. All of these rentals meet my 3 vacation requirements, and now I just need to figure out which one I want to stay in first!
1. Off-Grid Inn in Fall Creek, Wisconsin - Off-Grid Inn actually offers two different tiny home rentals that put you smack dab in the middle of nature. Unit 1 is a bit more cozy and perfect for couples, while Unit 2 has more room for family and friends to join you.
2. Irish Acres Farm's Fairy Cabin in New London, Wisconsin - If a glorified glamping vacation is what you had in mind, the Fairy Cabin at Irish Acres Farm might be perfect for you. It's located on a working family farm and offers a great place to relax or get some hands-on farming experience!
3. The Glass House at Anaway Place in Richmond Center, Wisconsin - Anaway Place actually offers 7 different small cabins to choose from, and all of them offer an "elevated camping experience", but The Glass House is the one that has me most intrigued...
4. The Nord House at Sand County Vacation Rentals in Wisconsin Dells, Wisconsin - I'm a firm believer that any true Wisconsin vacation experience should involve staying in an A-frame cabin, and this tiny A-frame named The Nord House is a great place to start, plus it's located right near all the fun in the Wisconsin Dells!
Ready for more Wisconsin vacation ideas? Check these out...
Wisconsin's Pink Castle Makes the Ultimate Girls Getaway
8 Wisconsin Cabins That Make You Feel Like You're in a Movie