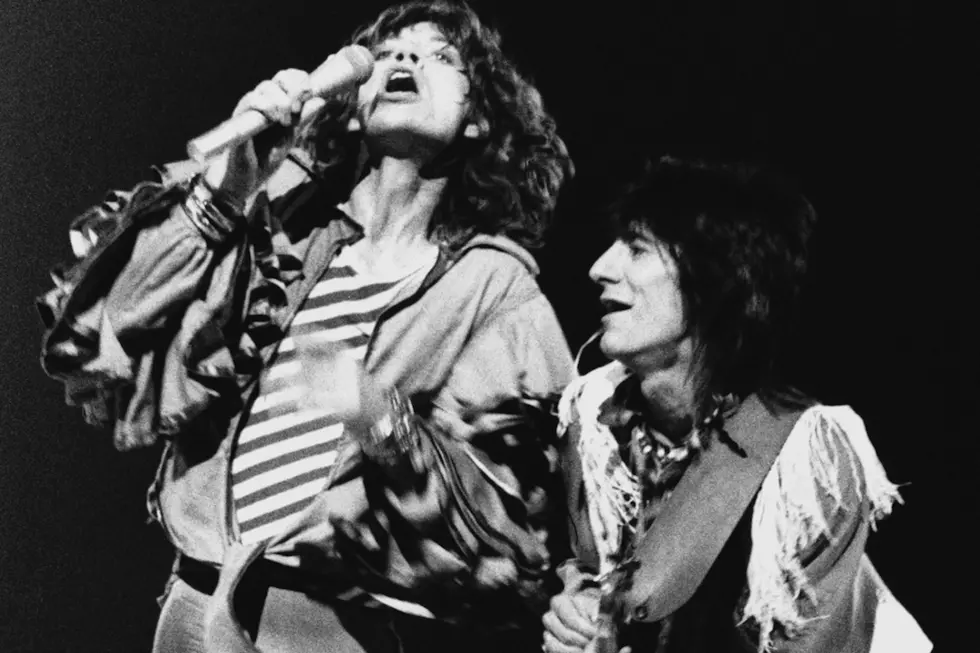 The Day Ron Wood Joined the Rolling Stones as an Apprentice
Monti Spry / Hulton Archive, Getty Images
Ron Wood's entrance into the debauched world of rock 'n' roll excess that was the Rolling Stones arrived via a press statement on April 14, 1975. Turns out, even after proving his meddle by playing his first show as the band opened a world tour, Wood would have a long way to go in order to become a full-time member.
Mick Jagger, speaking at the time, said Wood's earlier career experience with Jeff Beck and the Faces made him the perfect candidate to replace the departed Mick Taylor as the Stones' second guitarist.
"I wanted someone that was easy to get on with, you know, that wasn't too difficult and that was a good player and was used to playing onstage," Jagger said. "It's quite a lot to ask of someone to come and do a big American tour with a band like the Stones, you know? I mean, not that I think the Stones are any really big deal, but it tends to be a bit of a paralyzing experience for people. You know what I mean? And I wanted someone that wasn't going to be phased out."
Well, not from stage fright, anyway. Wood boasted an addiction to fun that dated back to his childhood. He has said that he started drinking heavily as the son of "water gypsies" at the tender age of 14. As he began constructing a new legacy with the Stones, initially as a sessions collaborator on the 1973 song "It's Only Rock 'n Roll (But I Like It)," Wood had moved from beer, brandy and whiskey to cocaine.
He found willing partners in crime, at least at first, with the Rolling Stones – a group Wood had been hoping to join since seeing them for the first time at the Richmond Jazz and Blues Festival in 1964.
"I always knew I was gonna end up in this band," Wood told Stuff last year. "I remember walking around the periphery of Hyde Park in '69, and this big car pulls up through a whole sea of people and out steps Mick and [Stones drummer] Charlie [Watts]. Mick comes up and says, 'Ullo, Face,' which is what he called me then, 'cause I was in the Faces. And we talk away for a while and then they say, 'Okay, we gotta go and play. We'll see you soon.' And I said, 'Yeah, sooner than you think.' I was always confident I would end up in this band, and a few years later I did."
Of course, it wasn't that simple. Wood had to work his way toward sobriety while enduring what became an incredibly lengthy apprenticeship with the band. He was even still a member of the Faces when his first Rolling Stones tour got underway. But after the Faces broke up in December 1975, Wood was declared an official member of (but not a financial stakeholder in) his favorite band.
Two certifiably classic albums followed: 1978's Some Girls and 1981's Tattoo You. Still, for the next 17 years, Wood was only paid when the Rolling Stones toured – which, during the '80s, wasn't much. A former art student, he turned to painting again, something that became a lucrative sideline. Most of all, he served as the glue that held the Rolling Stones together through a difficult period when Jagger and Keith Richards were at odds with each other.
"I just looked at it like I was doing my apprenticeship, even though I might have been 50 years old," Wood told the Guardian in 2011. "I was learning, but I was teaching as well, how to let go and enjoy life. During the Dirty Work days, that was a really bad time, I got them through that. I'd be like, 'You stay near the phone. I'm going to get him on the phone and I'll ring you back.'"
After that, Wood was finally rewarded with full partnership in the Rolling Stones, nearly two decades after the band first announced his arrival. Today, he takes the long view on his journey. "I wasn't looking at the pay packet," Wood told Stuff. "I was looking for an adventure, and I certainly got that."
Top 40 Blues Rock Albums
Inspired by giants like Muddy Waters, Robert Johnson and B.B. King, rock artists have put their own spin on the blues.
You Think You Know the Rolling Stones?