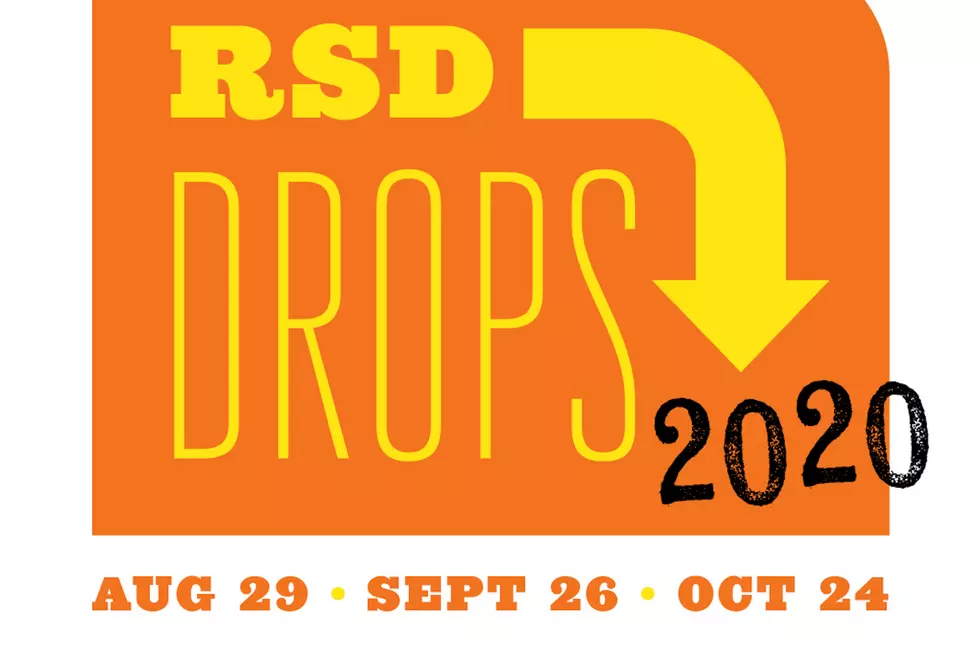 Record Store Day Returns With First of Three 'RSD Drops'
RecordStoreDay.com
The original April date was initially pushed back to June, then delayed once more as COVID-19 spread. Concerns over social distancing subsequently led to this three-way split. That meant separating the previously announced slate of special releases too, potentially creating some confusion for record buyers who couldn't keep up with the changes amid a global health crisis.
Bowie's two-disc I'm Only Dancing (The Soul Tour 74) showcases a recently discovered archival performance from Oct. 20, 1974, at the Michigan Palace, along with three additional songs from his Nov. 30 stop at the Municipal Auditorium in Nashville. Rock N Roll Hall of Fame was recorded during Def Leppard's 2019 induction, and includes guest appearances by Queen's Brian May and Mott the Hoople's Ian Hunter.
Arnold Layne Live 2007, a special 7" Pink Floyd vinyl release, features a final performance by David Gilmour, Nick Mason and Richard Wright – the latter of whom died the following year. Frehley's Trouble Walkin' and The Kink Kronikles compilation have both been out of print for more than three decades.
RSD Drops: Aug. 29
Andrew Gold, Something New: Unreleased Gold (LP)
Ace Frehley, Trouble Walkin' (LP)
America, Heritage II: Demos (LP)
Black Keys, Let's Rock (45 RPM edition)
Black Crowes, Lions (LP)
Brian Eno, Rams: Original Soundtrack (LP)
Canned Heat & John Lee Hooker, Hooker 'N Heat (LP)
Collective Soul, Half and Half (12-inch vinyl)
Cure, Seventeen Seconds (12-inch picture disc; Bloodflowers (2LP picture disc)
Dave Davies, Rock Bottom: Live at the Bottom Line (2LP)
David Bowie, ChangesNowBowie (CD/LP); I'm Only Dancing: The Soul Tour '74 (CD/LP)
Def Leppard, Rock N Roll Hall of Fame
Dio, Annica (12-inch picture disc)
Dr. John, Remedies (LP)
Drive-By Truckers, "The Unraveling" b/w "Sarah's Flame" (7-inch vinyl)
Elton John, Elton John (LP)
Emerson Lake & Palmer, Live at Waterloo Field, Stanhope, New Jersey, U.S.A., 31st July (LP)
Gong, Live! at Sheffield 1974 (LP)
Hawkwind, At the BBC 1972; Quark, Strangeness & Charm (LP)
Iggy Pop, Kiss My Blood: Live in Paris 1991 (3LP)
Jethro Tull, Stormwatch 2 (LP)
John Lennon, Instant Karma!: 2020 Ultimate Mixes (7-inch vinyl)
John Prine, The Atlantic Albums (4LP)
Lou Reed & John Cale, Songs For Drella (2LP)
Kinks, Kink Kronikles (LP)
Nick Mason's Saucerful of Secrets, "See Emily Play"/"Vegetable Man" (12-inch vinyl)
Motorhead, "Ace of Spades"/"Dirty Love" (12-inch vinyl)
Pretenders, Live! At the Paradise, Boston 1980 (LP)
Pink Floyd, "Arnold Layne Live 2007" (7-inch vinyl)
Roxy Music, Roxy Music: The Steven Wilson Stereo Mix (LP)
Tommy Bolin, Tommy Bolin Lives! (LP)
U2, 11 O'Clock Tick Tock: 40th Anniversary Edition (12-inch vinyl)
Who, Odds and Sods: Deluxe (2LP)
Yusuf / Cat Stevens, But I Might Die Tonight (7-inch vinyl)
Remember to follow our continuously updated list of 2020 New Music Releases for details on projects issued throughout the year.
Ranking Classic Rock's Top Acts