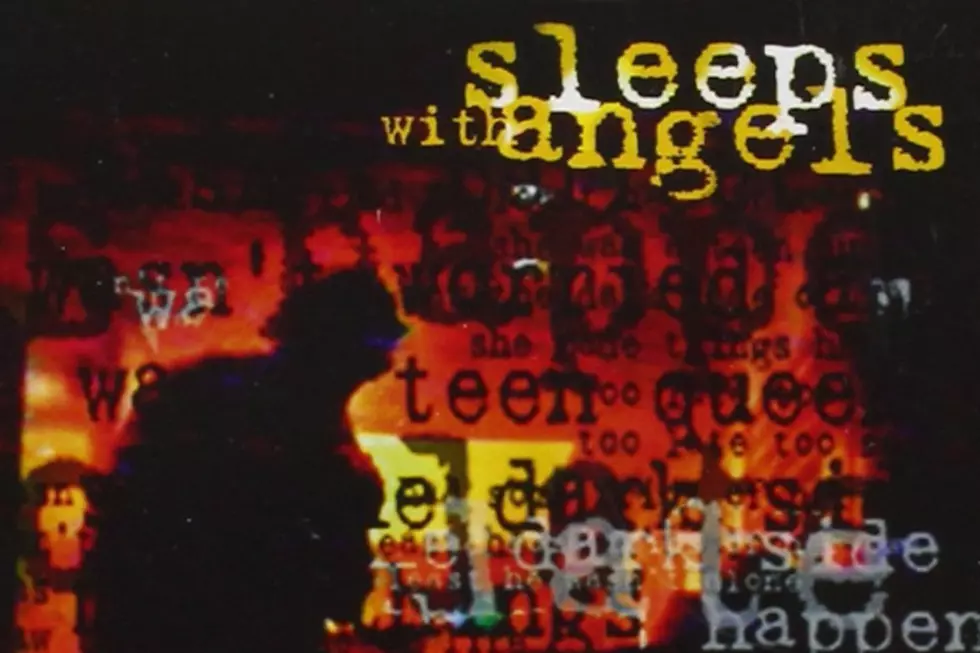 How Neil Young Mourned Kurt Cobain on 'Sleeps With Angels'
Reprise
Newly crowned as the Godfather of Grunge, Neil Young returned to the studio in November 1993 with his primordial garage-rock brethren Crazy Horse for what promised to be another amp-melting catharsis. But the news of Nirvana frontman Kurt Cobain's suicide seemed to change all that.
By the time Sleeps With Angels arrived on Aug. 6, 1994, an atmosphere of mourning had enveloped the project. Sure, they displayed some suitably flinty attitude on the title track, unleashed one of their trademark extended grooves with "Change Your Mind," and got caught up in the tornadic fury of "Piece of Crap." But, contrary to expectations (either because of Young's plaid-clad '90s-era rock rep or previous shared detonations) Sleeps With Angels stands as one of the most varied albums Young ever released.
That begins with the piano-driven "My Heart," continues on to the Harvest Moon of "Western Hero" and the emotive elegance of "Trans Am," before closing out with "A Dream That Can Last," a track that has more to do with the atmospheric After the Gold Rush than the distorted joys of Rust Never Sleeps. And really, that's the triumph of this ramshackle moan of an album: It returned Crazy Horse to a quieter sense of its own power, to a coiled ambition.
The songs, for all of their notable diversity, remained straight forward, unpolished, from the heart. Throughout, the project's complexity of style never sways Sleeps With Angels from its overriding sense of foreboding. Collaborating again with Frank "Poncho" Sampedro, Billy Talbot and Ralph Molina, Neil Young took full composing credits on all but one song, the ominous "Blue Eden." Themes, snippets of language, even complete musical thoughts (as on the "Western Hero" sequel, "Train of Love") repeat, like mantras. This is, as its title implies, a meditation on death – informed by loss, guided by pain and perhaps haunted by Cobain, who died of a shotgun wound to the head on April 5, 1994.
"I, coincidentally, had been trying to reach him," Neil Young relayed in his moving autobiography, Waging Heavy Peace. "I wanted to talk to him. Tell him only to play when he felt like it."
Watch Neil Young's 'Change Your Mind' Video
Young was, at that point, something of a touchstone for Seattle rockers like Kurt Cobain, as the burgeoning grunge scene there found common ground in his roaring 1991 album Ragged Glory – and, further back, in 1979's Rust Never Sleeps, both also with Crazy Horse. As early as December of 1991, Steve Martin had connected the godfather-and-grunge dots in an issue of Pulse. By 1993, Young was appearing on stage with Pearl Jam for a performance of "Rockin' in the Free World" at the MTV Video Music Awards.
But then Cobain quoted one of the lyrics from Young's "Hey Hey, My My (Into the Black)" – a key track from Rust Never Sleeps – in a note the doomed Nirvana frontman left behind before killing himself. "I don't have the passion anymore," he wrote, "and so remember, it's better to burn out than to fade away."
Whether that directly influenced Sleeps With Angels remained something of a mystery. In a 1995 talk with Mojo, Young skirted the issue. "Sleeps With Angels has a lot of overtones to it, from different situations that were described in it – a lot of sad scenes," Young said, before pausing. "I've never really spoken about why I made that album. I don't want to start now." Pressed further, he added: "I just don't want to talk about that. That's my decision. I've made a choice not to talk about it and I'm sticking to it."
Still, there's no denying the impact that Cobain's sudden death, and his overt reference to "Hey Hey, My My" had on Young. "When he died and left that note, it struck a deep chord inside of me," Young admitted to NME in 2012. "It fucked with me." Whether he wanted it to be or not, Sleeps With Angels will be forever linked with this awful period.
Watch Neil Young's 'Sleeps With Angels' Video
Of course, more then two decades later, Neil Young is still vital, is still collaborating on occasion with Crazy Horse (in fact, he issued two albums with them in 2012), is still ripping and roaring like someone a third of his age. Meanwhile, the early '90s scene, torn asunder by Cobain's departure, can seem like nothing more than a curio. "The grunge era provided a welcome return to the garage-band sound of the '60s, a stripped-down vitality that made superstars of such talents as Nirvana, Soundgarden and Pearl Jam," wrote Warren Pederson of Blast. "Unfortunately, Nirvana's Kurt Cobain committed suicide in 1994, Soundgarden broke up in 1999 (they have since reunited), and Pearl Jam seems a weak choice to carry the torch. It should come as no surprise that the Godfather of Grunge, Neil Young, is outlasting any of his successors."
In time, even that catchy little descriptor – one Young never wanted, anyway – faded from the public consciousness, though not before a French journalist had to temerity to ask how he liked being called the Godfather of Grunge. "I prefer to be called Don Grungio," an agitated Young shot back.
Through it all, however, Neil Young has held on to a lasting appreciation for what Kurt Cobain contributed, even as Nirvana joined Young in the Rock and Roll Hall of Fame in 2014. "He really, really inspired me," Young told Mojo. "He was so great, wonderful, one of the best – but more than that. Kurt was one of the absolute best of all time for me."
Several outlets, including Mojo, falsely reported that Young had vowed to stop performing "Hey Hey, My My (Into the Black)." He actually began singing it again over the first few shows after Cobain's death. "It just made it a little more focused for a while," Young told Uncut. "Now it's just another face to think about while you're singing it."
Besides, there was new music to present. Sleeps With Angels – despite arriving at a time when many of his classic-rock brethren were slipping into relative obscurity – would give Young the second of three consecutive Top 10 albums. Robert Christgau framed the general sense of wonder surrounding this latest resurgence after a string of '80s-era flops, noting that Neil Young had recently busied himself with "lyrical will-o'-the-wisps, weird road tales, sociological crazy mirrors, rock and roll's first great middle-age anthem, and the ecology edition of 'Welfare Mothers.'"
Listen to Neil Young's 'A Dream That Can Last'
In this way, it might have been his most improbable comeback of all. But Young has a canny way of surprising even his most ardent followers. He did so again with Sleeps With Angels, which takes in all of the emotion of "Tonight's the Night" (Young's harrowing farewell to fallen Crazy Horse bandmate Danny Whitten), and wrings out still more. Whatever his struggles in the earlier decade, Neil Young was walking confidently, if a little warily, away from them.
"I don't know how this happened, or why it happened, but it happened," Young mused back then, talking about his career uptick. "How can you find yourself if you don't lose yourself? How can you be renewed if – if you don't get old? You can't. You have to do that. There have to be peaks and valleys, or it's boring. If I've done that, I guess it's because I believe in that part of life, and I believe that's the way things are. Even if it means temporarily sacrificing success, I don't really give a shit."
Neil Young Albums Ranked