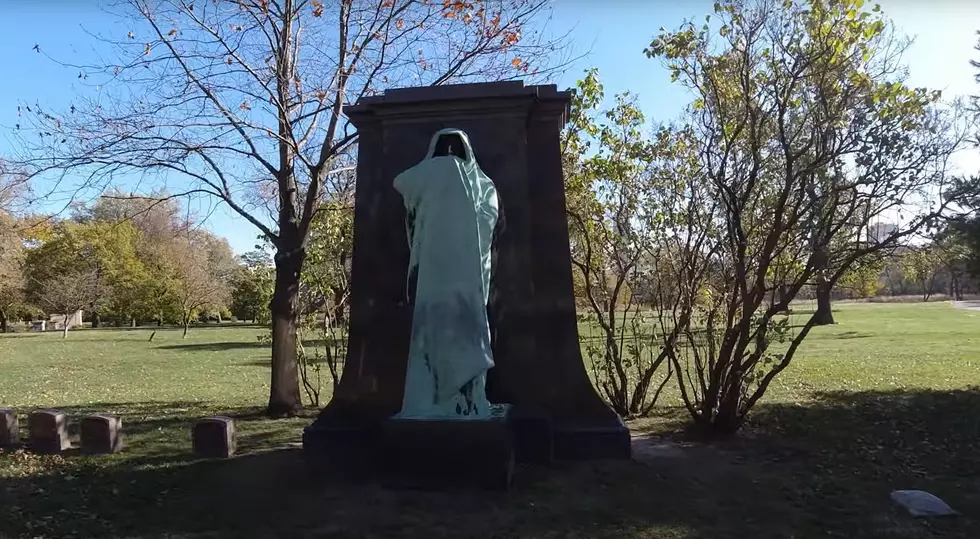 Legend Says This Illinois Grave Statue Will Show How You'll Die
Art of Exploration via YouTube
Cemeteries seem to inspire macabre stories and legends. No more so than a certain graveyard in Illinois that has a statue who many claim will show you how you'll die someday.
Graceland Cemetery in Chicago is so infamous for its legends and stories that Only In Your State recently did a feature on it. What they didn't mention is one grave in particular has a figure that is said to have supernatural powers. It's the Eternal Silence statue (aka Dexter Graves Monument). It's quite the foreboding sculpture of a hooded individual that appears in a cloak. The legend says if you stare into its eyes, you'll soon after get a brief flash in your mind of how you will one day meet your end.
It's not the only image of weirdness that exists in Graceland Cemetery. This statue in glass is said to be above the grave of a young girl who was killed when she was sadly struck by lightning in the late 1800's.
The official website for Graceland Cemetery shows that it's once again open to the public after being closed for awhile.
It's one of the most historic cemeteries in Illinois with past residents dating back over a 150 years. It was previously known as a cemetery featuring the resting place of famous architects. If you visit someday, maybe don't look the Eternal Silence statue in the eye? Otherwise, the legend says you'll have a moment similar to the characters in Final Destination.
See a Civil War Era House in Illinois with a Hidden Bunker Inside