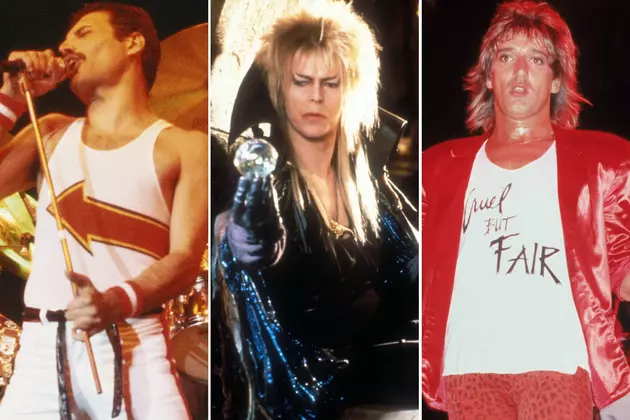 Freddie Mercury and Rod Stewart Could Have Had David Bowie's 'Labyrinth' Role
Fox Photos / Jim Henson Productions / Keystone
Hardcore fans of Jim Henson's cult classic Labyrinth have long been well aware that David Bowie wasn't the first choice to play the film's antagonist, the Goblin King. But a new book celebrating the movie's 30th anniversary reveals just how many other names Henson spitballed before settling on his star.
As previously reported in our look at Bowie's role in the film, his eventual selection only came after Henson considered a slew of stars that also included Prince, Michael Jackson, Sting and Mick Jagger — and when Bowie did sign on, it led to extensive changes to the story that screenwriter Terry Jones later pinpointed as damaging.
"He went for David Bowie, and it all went away for about a year. When the script came back, I didn't recognize any of it," said Jones. "Jim said, 'Can you do a bit more to it? David Bowie doesn't want to do it anymore because it wasn't funny anymore.'"
Labyrinth ultimately didn't fare as well as expected at the box office, but it's gone on to enjoy cult status among generations of filmgoers, and remained one of Bowie's most widely recognized roles. Still, it's hard not to imagine what kind of Goblin King we might have gotten if Henson had ended up going in another direction.
Every David Bowie Single Ranked