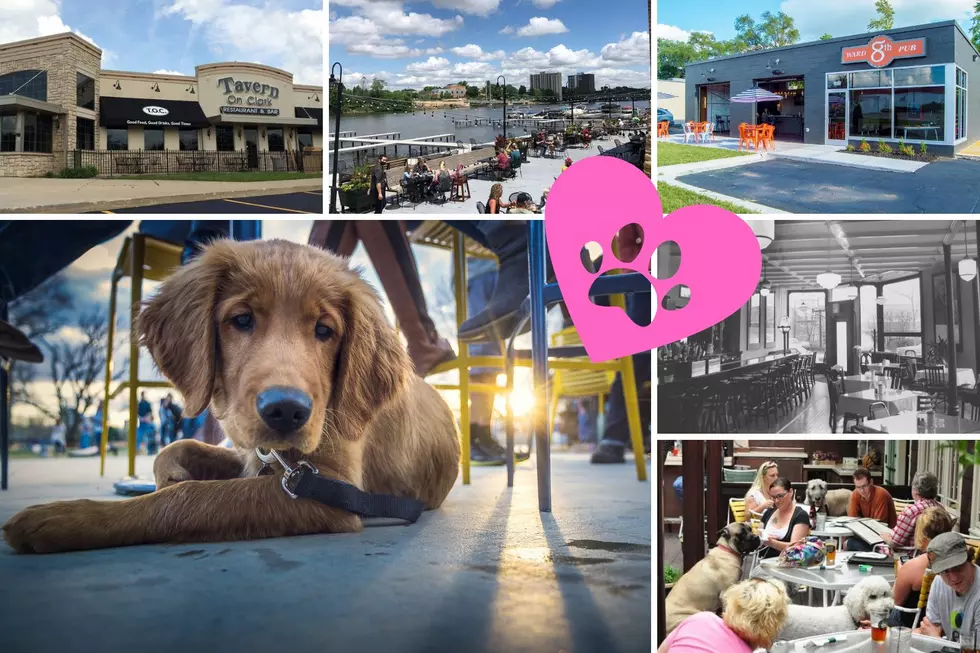 5 Highly Rated Places to Enjoy A Meal With Your Dog in Rockford, Illinois
Olympic Tavern, 8th Ward Pub, Irish Rose, Praire Street Brewing Company, Tavern On Clark via Facebook, Unsplash, Canva
If we were playing the game "Never Have I Ever" right now I would have to say I have NEVER taken one of my dogs to a restaurant with me.
I have zero problems with people bringing their dogs along to enjoy a meal at a restaurant's outdoor space, if anything I'm a bit envious. Two of my dogs are rescues and weren't properly socialized as puppies, and we're still working on teaching our youngest dog, Gentry some manners. So, none of my dogs are what you would call restaurant appropriate.
Dog-Friendly Travel
I was recently on a search for dog-friendly hotels when I discovered BringFido.com. The sole purpose of this website is to provide everything you need to know when it comes to traveling with your dog. From hotels, airlines, and restaurants to pet insurance and dog-centered events, Bring Fido has what you're looking for wherever you may be traveling.
Dog-Friendly Businesses in Rockford, Illinois
While perusing BringFido.com I decided to search for dog-friendly restaurants in the Rockford area, and I was pleasantly surprised to 34 different restaurants listed! With so many choices, how do you decide where to dine next with your furry best friend? You focus on the most highly rated ones!
5 Rockford Restaurants That Received High Ratings From BringFido Reviewers
1.  Prairie Street Brewing Company - With their fabulous deck located on the banks of the Rock River, it's no surprise this locale received high ratings! One reviewer even said the waitress brought a bowl of water for their dog along with their meal.
2. Tavern On Clark - With a great outdoor space that's completely fenced in and amazing food and craft beer items to choose from, this is a must-visit with your dog!
3. 8th Ward Pub - This pub was created with outdoor dining in mind, and the staff might even bring out some tasty snacks for your dog too!
4. The Olympic Tavern - The outdoor space at Olympic Tavern is by far one of my favorites in the Rockford area, and most dogs agree too! In fact, they host a Pint for Pups night every Monday during the summer months starting at 4 p.m. (weather permitting) so your dog can meet some new furry friends too!
5.  Irish Rose Saloon - If you're taking a walk with your dog in Downtown Rockford and decide you need to find a place to eat, look no further than the Irish Rose Saloon. Dining with your dog is permitted both indoors and out, and you might even spot a furry bartended from time to time.
To see more great dog-friendly restaurant options in the Rockford area, check out Bring Fido's full list here.
LOOK: Here Are 30 Foods That Are Poisonous to Dogs
To prepare yourself for a potential incident, always keep your vet's phone number handy, along with an after-hours clinic you can call in an emergency. The ASPCA Animal Poison Control Center also has a hotline you can call at (888) 426-4435 for advice.
Even with all of these resources, however, the best cure for food poisoning is preventing it in the first place. To give you an idea of what human foods can be dangerous, Stacker has put together a slideshow of 30 common foods to avoid. Take a look to see if there are any that surprise you.
The 25 Best Rockford Restaurants for Cheap Eats According to TripAdvisor
Hungry but don't want to break the bank? Check out these places for the best cheap eats in Rockford.