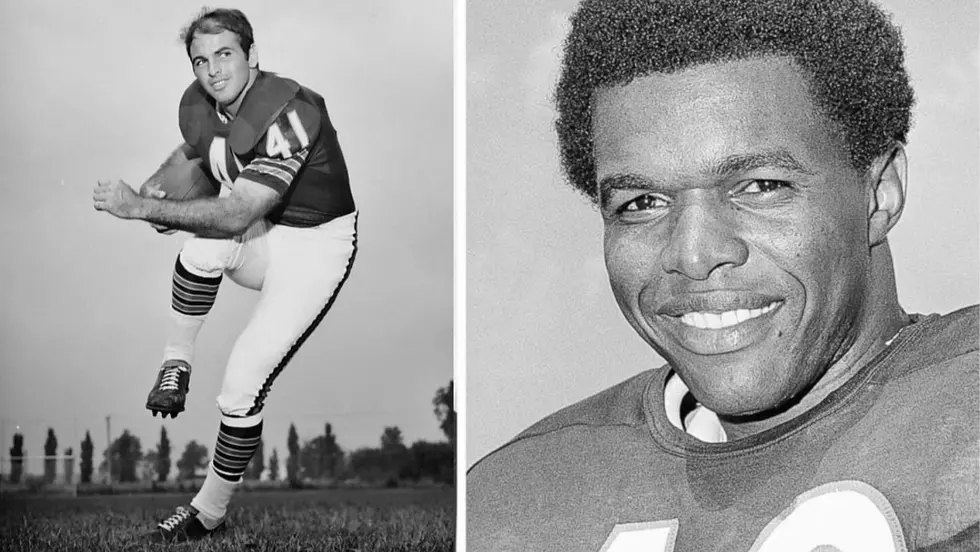 Chicago Bears Pay Cool Tribute To One Of Their Icons On The Anniversary Of His Death
Getty/Wikipedia
Brian Piccolo passed away on this date, June 16th, fifty-two years ago in 1970.
His story was immortalized in the 1971 TV movie Brian's Song. If you're like me and have shamefully never seen this movie. You can fix that in under 90 minutes. The whole thing is available, for free on YouTube. I don't think there are even any ads that you have to skip through.
This movie has apparently made more men cry than Old Yeller so make sure you're in an appropriate place, emotionally and physically, when you watch.
The legend of Brian Piccolo has remained alive at Halas Hall with the annual presentation of the Brian Piccolo Award that's been awarded every year since his death.
Wikipedia - The Brian Piccolo Award is an honor that is given to players of the Chicago Bears. The award is given to one rookie and one veteran per season who best exemplifies the courage, loyalty, teamwork, dedication and sense of humor of the late Brian Piccolo, a running back for the Bears from 1966 until his untimely death from cancer on June 16, 1970, at age 26.
Last year's winners were Alan Robinson III and rookie Darnell Mooney. It's an award that every recipient has taken very seriously.
The respect for the fallen icon continued today at Bears practice when all the players donned Piccolo's 41.
Great job by the Bears for keeping the memory of this legend alive.
P.S. While looking stuff up for this article I came across a fascinating YouTube video about the movie Brian's Song. It's packed with information and tidbits about the movie but one that really stuck out to me was the fact that ABC had to censor Piccolo's official diagnosis. Piccolo died from testicular cancer that had metastasized in his chest. But since the word "testicle" was banned from broadcast television they could only refer to it as a general cancer.
TACKLE THESE: Check Out the Best Uniforms In Each NFL Team's History
The 17 Quarterbacks That Have Played For the Bears During Aaron Rodgers' Career In Green Bay
It's fair to say that there has been a difference in quality at the most important position in sports for these two historic franchises.