Top 10 Steve Clark Def Leppard Songs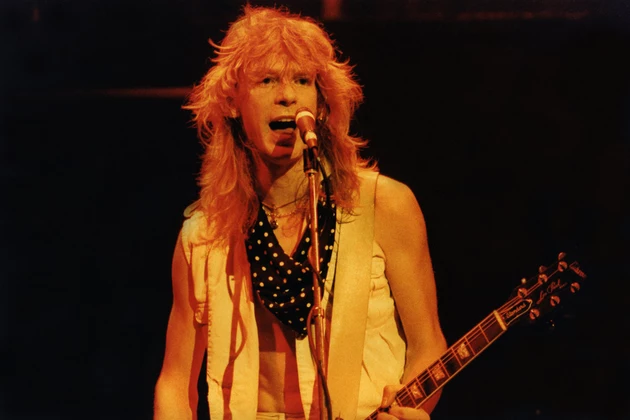 Over the years, Def Leppard dealt with far more adversity than the run-of-the-mill drinking and drugging that knee-capped other '80s superstar outfits. Chief among these setbacks may have been the loss of their original second guitarist, as this list of Top 10 Steve Clark Def Leppard Songs shows.
Clark's 1991 death, after an overdose of prescription pills combined with a long running battle with alcoholism, happened as Def Leppard reached a crossroads. As the '90s wore on, alternative rock was the flavor du jour, and their brand of New Wave of British Heavy Metal-turned-synthesized glam rock simply didn't fit the landscape.
But Def Leppard had already withstood tragedy, after drummer Rick Allen lost his arm in a 1984 car accident, and they'd somehow find a way to carry on again without Clark. Ultimately, Def Leppard outlasted their contemporaries in popularity. Hitmakers like Poison, Warrant and Slaughter fell by the wayside, even as the quintet out of Sheffield, England continued to produce high-profile tours and smash singles.
Co-lead guitarist Phil Collen attempted to pick up the slack for 1992's Adrenalize, and Clark replacement Vivian Campbell did an admirable job when he came on board. Still, things were never the same. After all, Clark was the primary songwriter over Def Leppard's initial four albums, with estimates of his contributions ranging from 90 to 95 percent. In keeping, this collection of Top 10 Steve Clark Def Leppard Songs says as much about the band's early power as it does his lasting legacy.
"Rocks Off"
From: 'On Through the Night' (1980)
Pumping faux crowd noise into a recording years before Guns N' Roses would do it on their 1986 Live ?!*@ Like a Suicide EP is one facet of "Rocks Off" which is likely why 'On Through the Night' is so disliked by the band members – or at least virtually ignored in a live setting. Stunted lyrics about girls coming to the show and the aforementioned bogus cheering are salvaged by one thing: Clark's chugging guitar a solo that make you almost forget about the track's shortcomings. Almost.
"When Love and Hate Collide [Demo]"
Shelved in favor of "Have You Ever Needed Someone So Bad" as the go-to ballad on the Adrenalize album, "When Love and Hate Collide" later became a reworked hit single for the best of collection Vault: Def Leppard Greatest Hits (1980–1995). The demo version featuring Clark showcased his ability not to overtake a song until it was needed, leaving an understated mark on what was a better version than the finished product.
"Hello America"
From: 'On Through the Night' (1980)
An ambitious salvo lyrically, this track has singer Joe Elliott ruminating on a visit yet to be taken by the band to the United States, specifically California. Typically supplanted by then-guitarist Pete Willis, Clark runs the show with the leads here, never going over the top and mainly sitting in the pocket for the duration of the song. When he pulls out a somewhat restrained solo though, it's a promise of things to come.
It was hard for Clark to find a niche in the suddenly ballad-driven direction Def Leppard decided to embrace on this album, but he somehow managed to find a way to give an edge to the songs without providing guitar histrionics that might sound dated in a few years. Sure, "Love Bites" is a sappy reminder of the mid- to late-'80s, when lighters would illuminate stadiums as everyone from Kiss to Bon Jovi were looking to appeal to that elusive female demographic. Clark, however, made it seem less forced.
"Lady Strange"
From: 'High 'N' Dry' (1981)
Beginning with a dual guitar attack from Willis and Clark, "Lady Strange" devolves into a memorable riff that sounds like a precursor to "Photograph." What really stands out is the continuous shift in guitar sounds: From the doubling up to a basic three chord burst into a frenetic pre-solo that gets as close to speed metal as the band ever would come. Clark then delivers a grinding solo that cascades into a breather led by Elliott, before the three chords return with a vengeance.
This was peak layered production from Mutt Lange, a necessity because of Allen's accident requiring him to utilize an electronic drum kit more suited for a suddenly one-armed stickman. The very chorus of "Yeah, but are you gettin' it?/Armageddon it," stinks of cheese, but somehow works. Credit in no small way goes to the foundation Steve Clark throws down throughout the song. That he could turn a lyrically banal number into something unforgettable with a guitar solo is a testament to the greatness of "White Lightning."
"Wasted"
From: 'On Through the Night' (1980)
When people started throwing Def Leppard's name around with the New Wave of British Heavy Metal movement, many were left scratching their heads in bewilderment. Surely hit songs like "Let's Get Rocked" and "Love Bites" sound the complete opposite of established NWOBHM bands like Tygers of Pan Tang, Witchfinder General and Diamond Head, among others. But one listen to this track confirms that champions of the genre – Metallica's Lars Ulrich, in particular – were onto something. Clark's riff is something that wouldn't be out of place on an Iron Maiden record, resulting in arguably the tightest number on the album. That's also why it's one of the only On Through the Night songs to be performed live in recent years.
"Let It Go"
From: 'High 'N' Dry' (1981)
There was a conscious decision to make the sophomore Def Leppard album stand apart from its predecessor, and the project kicks into high gear from the outset. This catchy as hell, swirling guitar riff was lifted by Cinderella for their 1988 hit "Gypsy Road," and there are striking similarities to the song's structure in Quiet Riot's highest-charting original track, "Metal Health (Bang Your Head)." It's a concise number without sounding too stiff, sort of in the vein of Led Zeppelin's "tight but loose" ethos. Clark makes it a point to lie back at points before reintroducing the main guitar sound, letting it rise and fall over and over.
Prior to hitting the heights resulting in a string of radio-friendly compositions that would capture tween hearts in the form of bedroom wall posters, followed by the pressures which came from being a multi-platinum act, Def Leppard had a dark side. "Too Late For Love" epitomized this aspect of their music, and despite leaning toward wearing white, you almost got the feeling Clark thrived in the shadows. In this instance, he pulls the proceedings down to a melancholy affair at best and downright dismal at worst. Like his solo, the song is brilliant.
"Bringin' on the Heartbreak"/"Switch 625"
From: 'High 'N' Dry' (1981)
Originally conceived by the band to be a transcendent work along the lines of "Stairway to Heaven," running just over four and a half minutes, "Bringin' on the Heartbreak" instead inadvertently set the stage for dozens of hair-metal ballads to come down the road in ensuing years. Yet from its opening guitar climb, it was apparent that this was going to be something different than Def Leppard had ever attempted. It was ambitious without being over the top and rocked without pummeling the listener into submission, all due to Clark's delivery – which is easily his most shining moment. In recent years, there's always that moment as the track begins to fade out when you wonder if the radio station is going to attach the Clark showcase "Switch 625" to the song. Despite being listed as two separate titles, make no mistake, it's one epic piece that – had it been conjoined under one banner – might have been considered a harder edged "Bohemian Rhapsody" or, yes, at less than 20 seconds shorter, an attempt at their own "Stairway."
Source:
Top 10 Steve Clark Def Leppard Songs